Perfect Pampering for Pairs with "A Couple's Journey"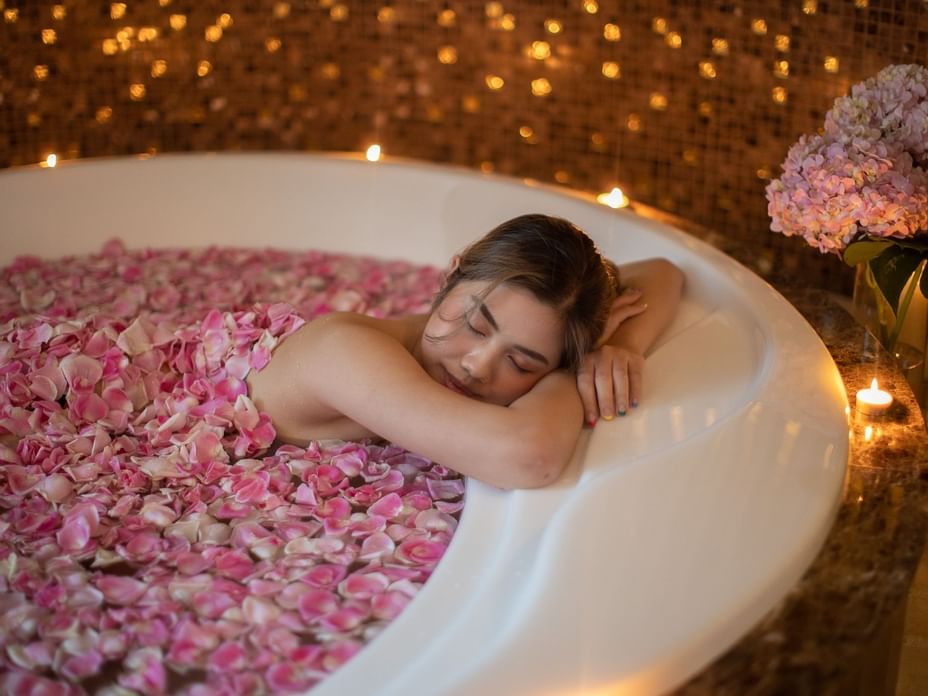 It's the time of year to show yourself and your special someone a whole heap of love and affection with our ultra-romantic "A Couple's Journey" spa treatment for lovebirds.
Couple can delight in the intimate setting of The Okura Spa where the pampering starts with a 30-minute aromatic rose-milk bath that relaxes mind and body. Bathing in the luxurious warm milk helps to hydrate and soothe the skin, reduce inflammation, relax tight muscles and reduce joint pain. The essence of roses also induces a sense of deep tranquility to relieve the mental stresses built up by the constant pressures of modern city living.
It is the perfect way to unwind before the 90-minute Okura Gateway amethyst massage. The amethyst has a calming effect and promotes inner peace. The therapist uses the stone at the crown chakra – which is located at the top of the head and is sometimes known as the third eye – to balance physical, mental and emotional energy. Chakras are the seven wheels of energy in the body that start at the top of the heard and travel down to the base of the spine. When in harmony each chakra allows energy to flow freely, but when these wheels of energy become blocked by stress, anxiety or emotional upheaval, one's wellbeing many suffer. Combined with essential oils, the amethyst massage allows you to experience the ultimate relief from daily stress while awakening your senses.
'A Couple's Journey' experience concludes with a 60-minute facial treatment with prestigious Valmont product to leave pampered couple looking and feeling their best.
'A Couple's Journey' spa package is priced at Baht 15,000++ per couple for the 3-hour treatment. Available daily at The Okura Spa.
For more information and reservations please call +66 (0) 2 687 9000 or email: spa@okurabangkok.com