Kaiseki Ryori (Japanese Fine Dining) And A La Carte Dinner At Yamazato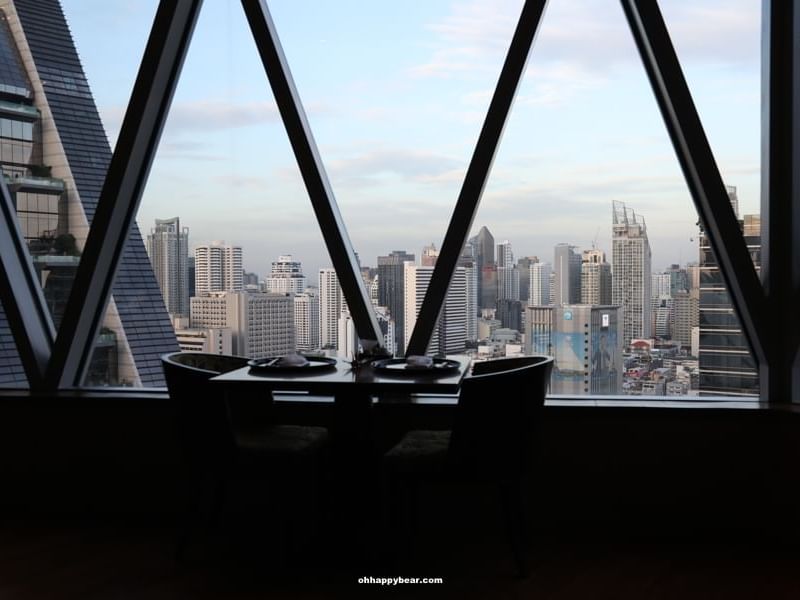 There's a rule that usually applies when it comes to choosing a restaurant of foreign cuisines: go where the natives usually go. And then look, taste, and try to understand, if you can, from the kitchen perspective. Case in point is Japanese cuisine which is one of the most popular foreign cuisines in Bangkok. We have so many Japanese restaurants in town, but when it comes to being a native favourite, Yamazato at The Okura Prestige Bangkok ranks high on top of the list.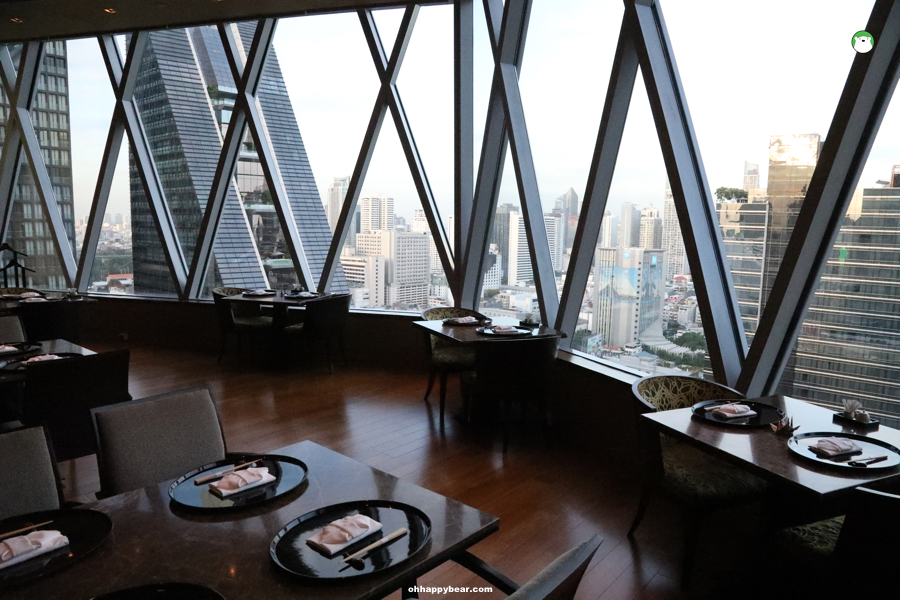 Above: The dining room with a view of Yamazato, The Okura Prestige Bangkok.
Yamazato is a branch of the long-standing Yamazato that first opened at The Hotel Okura Japan since 1962. This restaurant, debuted along with the hotelhere in Bangkok back in 2012, has brought a new light to our capital that has already been saturated with choices. The original name aside, they also brought over the Master Chef Shigeru Hagiwara who has since been cooking, and also supervising, all the dishes that come out of Yamazato Bangkok's kitchen. Yamazato was listed in Michelin Plate categories in the debut issue of Michelin Guide Bangkok 2018, and continued to appear in that same category in the 2019 edition. The meals here are exquisite, and they are among a rare number of Japanese restaurants that serve traditional Japanese fine-dining meal known as Kaiseki Ryori.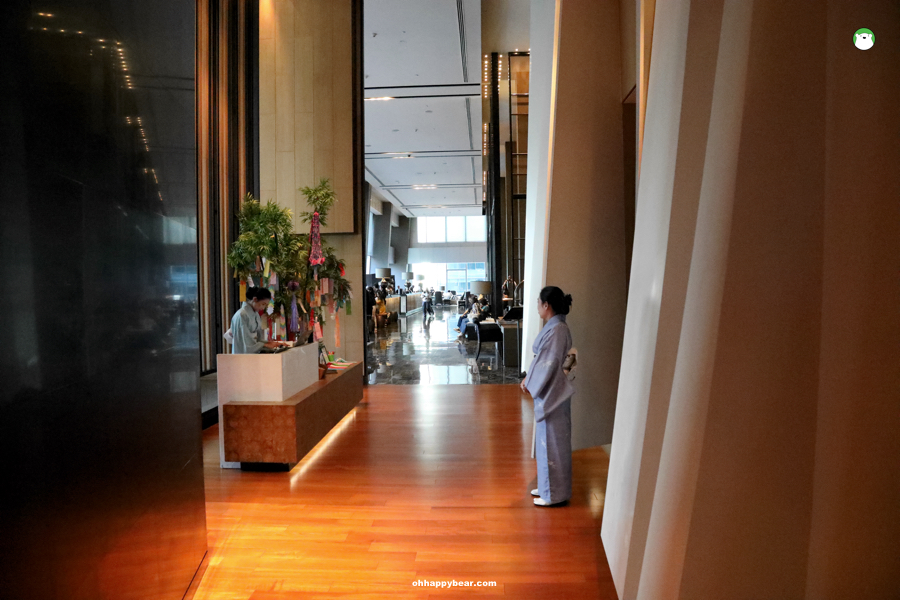 Above: Yamazato's lofty entrance is linked to the hotel's lobby.
The centuries-old traditional Kaiseki Ryori or Japanese haute-cuisine is a signature at Yamazato. If you follow thier facebook page you will see that this part of their menu changes upon the seasons and festivals, meaning there are always new tastes of the freshest seasonal ingredients. Kaiseki lunch starts at Bt1,700++ per set. Having a Kaiseki meal is a wonderful occasion to appreciate Japanese fine cooking, delicate designs, and the precise arrangement of forms and taste in one meal. A delicious cultural experience, so to speak.
Also my favourites are their set lunch menu: bento boxes, Yakizakana Gozen (rice with grilled fish), and Una Jyu (grilled Japanese eel on rice, served with sides). Usually, from my experience, the total price for lunch here usually settles about Bt800 – Bt1,000 per person. I hold their one harmony card which entitles me for a 15% off on restaurants in the hotel, except for holidays.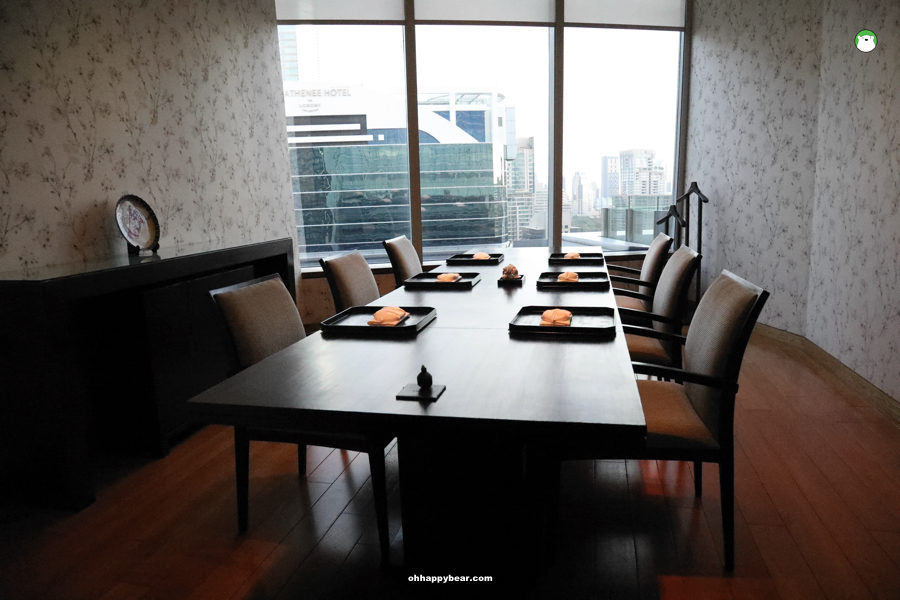 Above: One of Yamazato's private rooms – great for getting together of all kinds.
But recently, while staying at The Okura Prestige Hotel Bangkok, we also got to try Yamazato for dinner. The Kaiseki of the season was the Japanese Tabanata or the Star Festival, so the colourful stripes of papers where boys write their wish during the festival are also on the themed set, apart from the fact that the ingredients reflect the best of the season. Compared to their lunch choices, the dinner Kaiseki sets are more elaborate, as you will see from my below descriptions.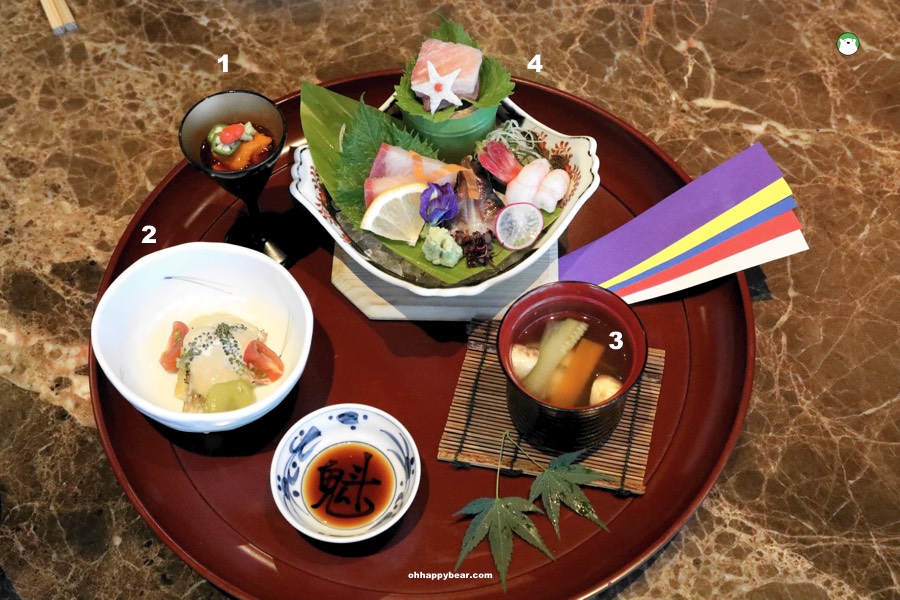 Kaiseki Ryoki is a multi-course meal. Above is the signature 8-course Omakase Kaiseki (Bt6,500++). This is an occasion I get to taste every bit of Japanese high cooking. Everything is so neatly prepared, beautiful, and delicious!
The first three courses + amuse bouche are served on the same tray above >> 1. Amuse Bouche – fresh soymilk skin, star-shaped okra, sea urchin, and Chinese wolfberry with starchy soy sauce; 2. Starter – grilled eel shirayaki (eel roasted without the tare sauce and only seasoned with salt), steamed octopus, tomato, sea grapes, broad bean, and maitake mushroom with sesame vinegar; 3. Soup – pike eel dumpling, Oboro kelp, mushroom, vegetables, and star-shaped carrot; and 4. Sashimi – tuna, sweet shrimp, yellowtail, and Japanese cockle. So elaborate and delicious.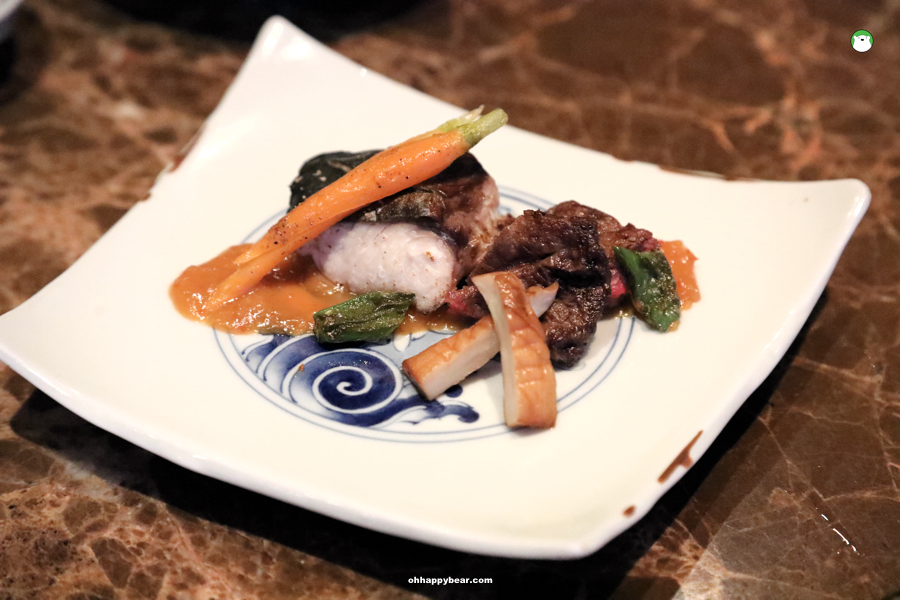 We got to try Japanese-style grilled items on the fourth course. Grilled Dish – Spanish mackerel, beef, with spicy leek miso sauce garnished with eringi mushroom, carrot, and green pepper. A great combination of tastes. Aroi mak mak ka. Error! Filename not specified.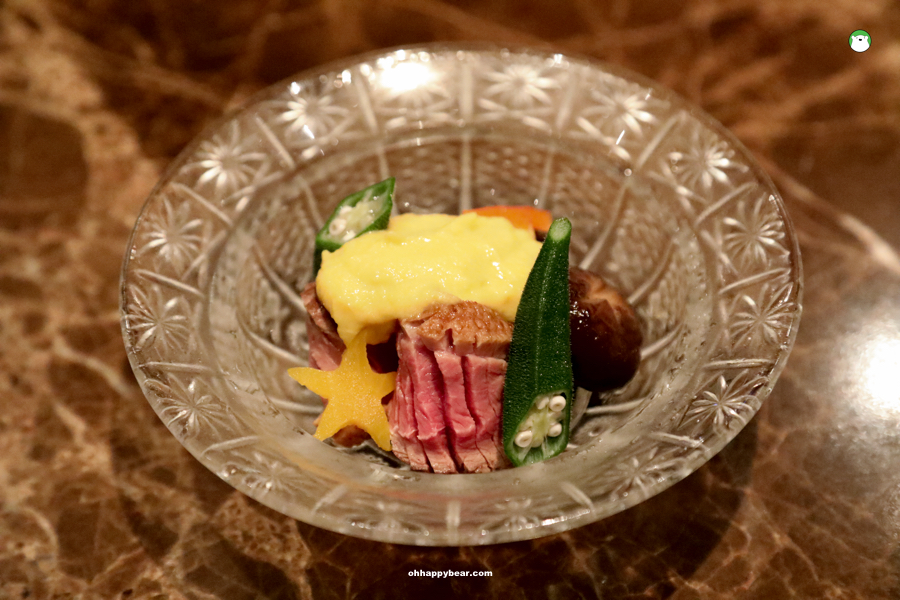 Simmer Dish here showcases how meats can be cooked to a perfect tender without losing its texture and tastes. Above is a chilled roasted duck, shiitake mushroom, eggplant, star-shaped paprika, corn, and okra.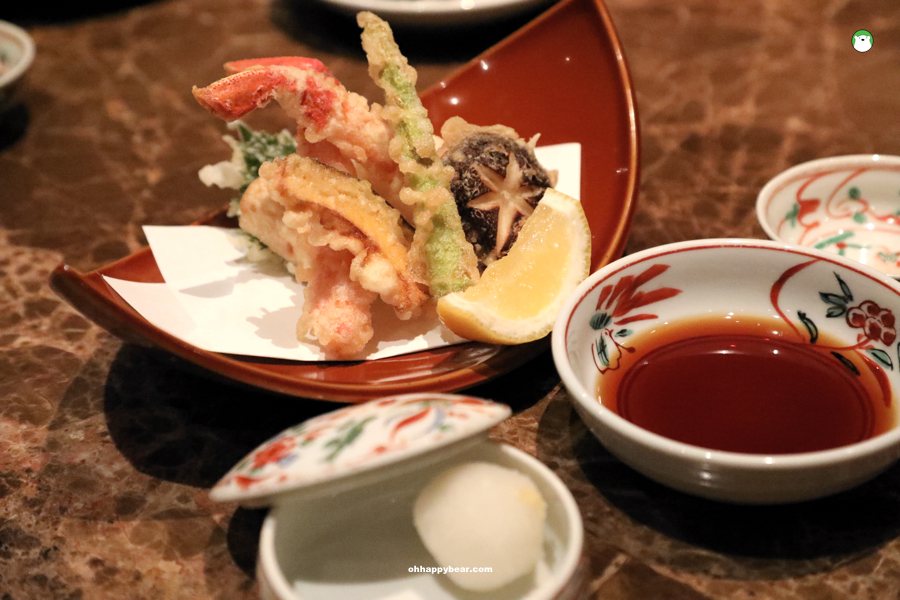 The sixth course is Tempura – snow crab, hairtail fish, shiitake mushroom, pumpkin, and asparagus. If you are tempura lovers, Tempura lovers should take note – Yamazato serves one of the best tempura in town. Light batter, crispy, and juicy pieces – all served piping hot as if they are running a tempura kitchen individually.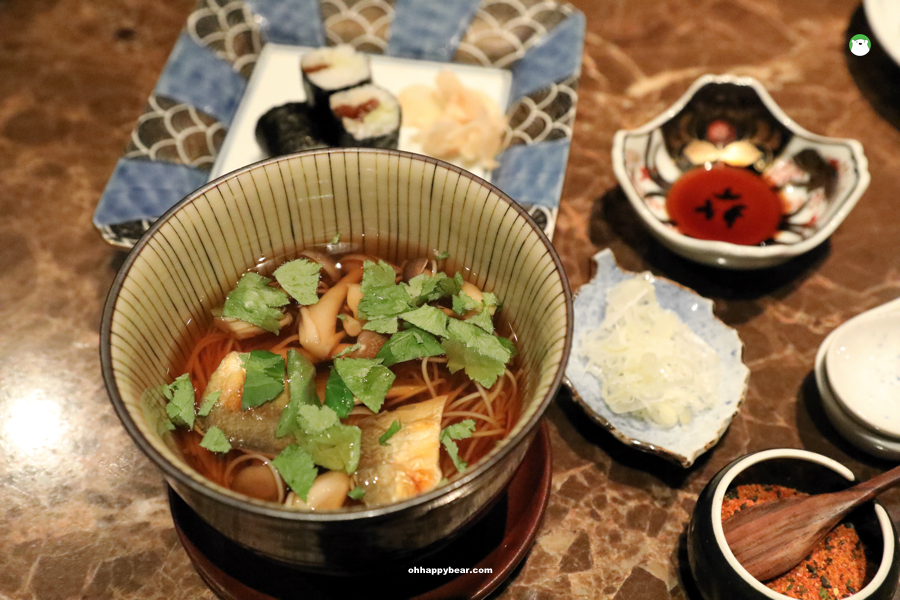 The seventh course of Noodles is warm and comforting – vermicelli noodles with sweet fish topped with shimeji mushroom, honewort, and a touch of yuzu. On the side is dried gourd shavings sushi roll. I particularly love Yamazato's all soups. They are the master of soups in my opinion. Clear soups here are always packed with flavours. This bowl is another great example. Simple combinations, but done so well.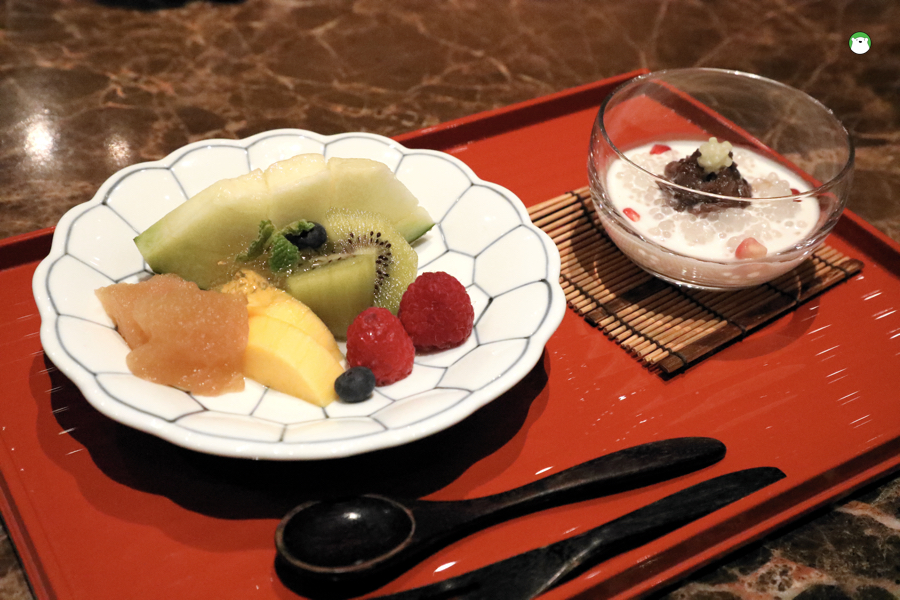 The eighth course in our Kaiseki Ryori is a dual of desserts. Yamazato is famed for their fruity desserts, and here are assorted fruits with apple puree and coconut flavoured tapioca and Japanese sugar candy.
Error! Filename not specified. Kaiseki Ryori is a great experience, a delicious edible cultural experience. It showcases high Japanese cooking which is exquisite and so well-prepared, delicious. The Omakase set is also a great choice for they change the ingredients regularly and seasonally. A wonderful traditional Japanese culinary experience right here in Bangkok.
Kaiseki Ryori Dinner is from Bt2,600 – Bt6,500++ per set.
Kaiseki Ryori Lunch is from Bt1,700 – Bt1,800+ per set.
---
A LA CARTE DINNER AT YAMAZATO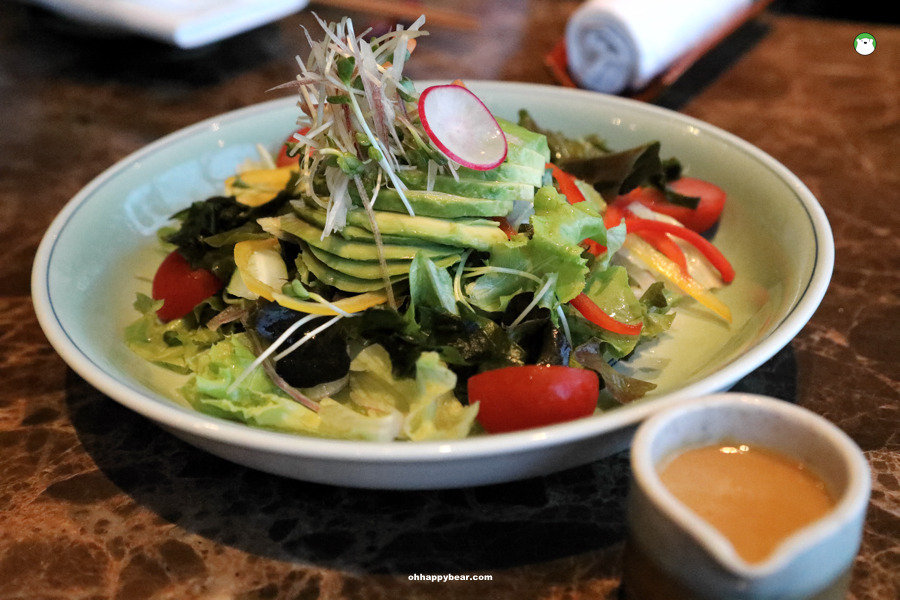 Above: Avocado Salad (Bt350++) served with a tangy and bright sesame dressing.
But then, Yamazato's dinner menu is quite accommodating, aiming to please everyone. It is large and covers all things one might want in a delicious and hearty Japanese meal. You can order things to share, or, if looking for a one-plate comforting dish to tuck into the night, you get your wish here, too. They do numerous choices of rice (some served with tea broth, so comforting, great for a light dinner) and noodles – those one bowl of wholesomeness I usually love for a light (but hearty and satisfying) dinner.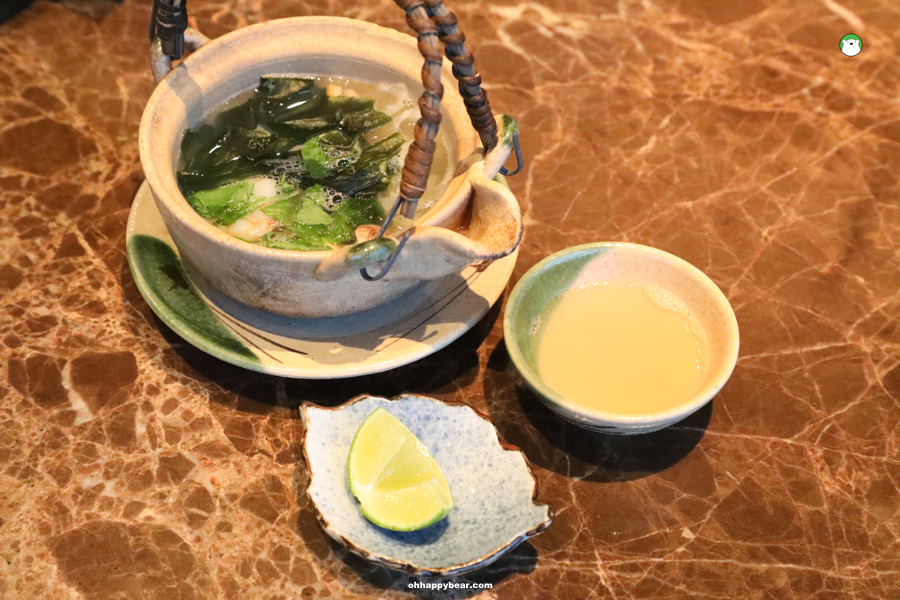 Above: Seafood soup (Kaisen Dobinmushi) from the Soup section of the menu (Bt500++) with shrimp, oyster, mussel, white fish, wakame seaweed, eel, and mushroom.
As aforementioned, Yamazato makes wonderful soups. I would say come here and take your time sipping through whatever you order for a soup. From their lunch set to dinner, their soups are all delicious, reflecting their culinary mastership. Above is the seafood soup, elegantly served in a ceramic pot. So tasty, with or without the lime.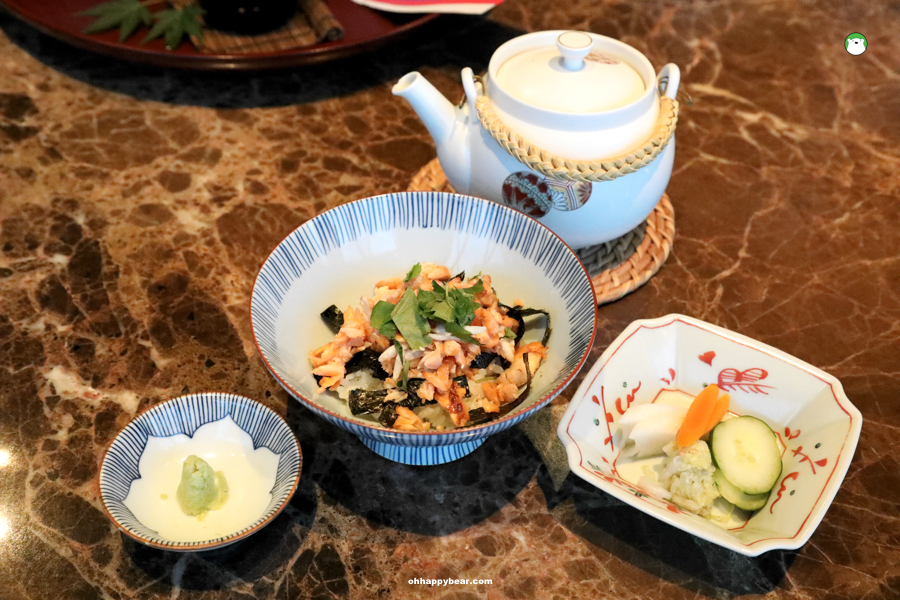 Above: From the Rice Dishes section, this is salmon Ochazuke or rice served with tea broth and pickles, Bt250++.
Here comes what I have been raving about at this dinner. A bowl of Japanese rice, nice and tender, topped with shredded salmon and seaweed, served with tea broth. Again, the light and clear soup is so flavourful. Very, very satisfying.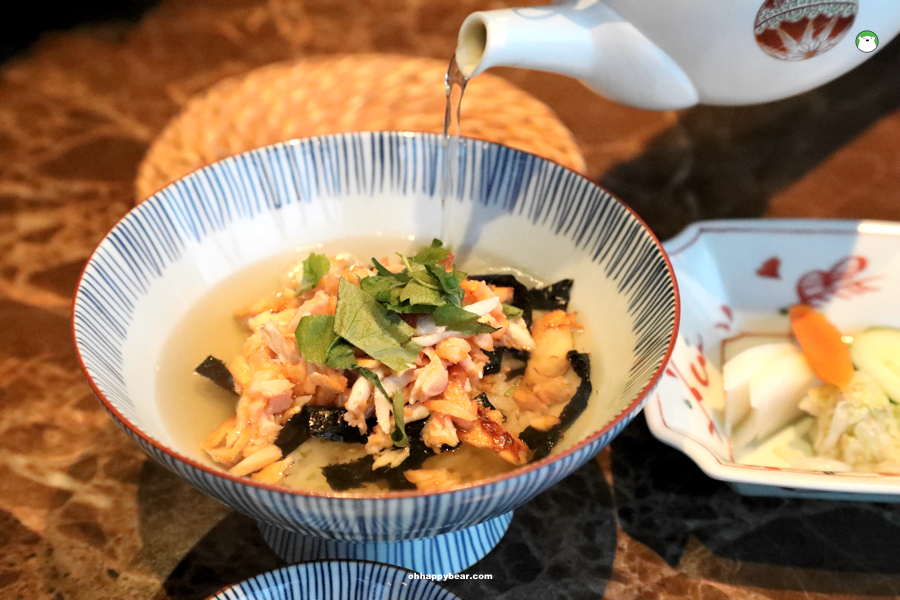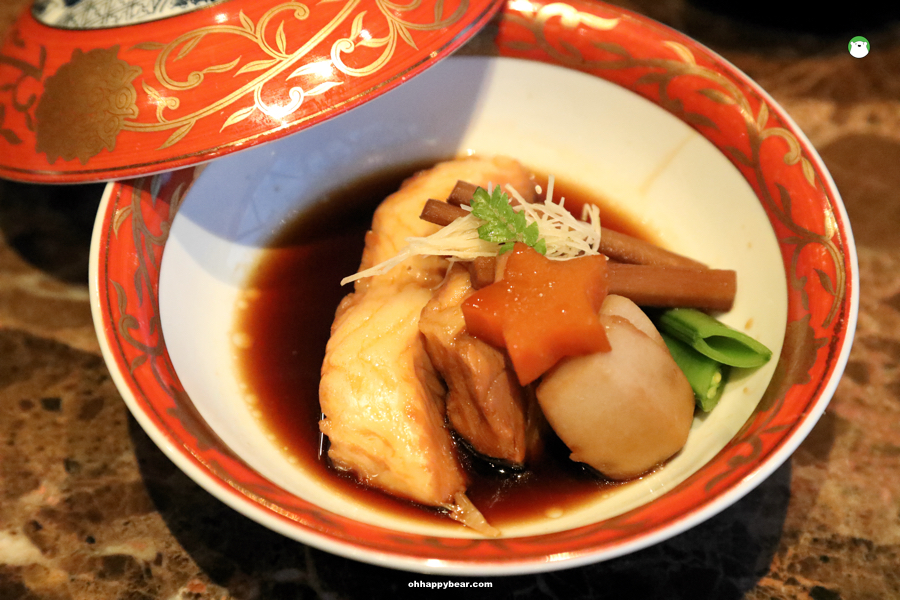 Above: From the 'Simmered Dishes' section, simmered snow fish (Ginmutsu Nisuke), Bt800++.
But then, we also ordered a simmered snow fish (above). If the point of simmering food is to get the ingredients to mingle, their textures perfectly tender and tasty, this dish showcases that purpose perfectly. Snowfish, while still very juicy, is packed with the taste of the sauce. Mildly salty and sweet, with aromas from the concoction. This dish simply begs for a good bowl of steamed rice, which you can order.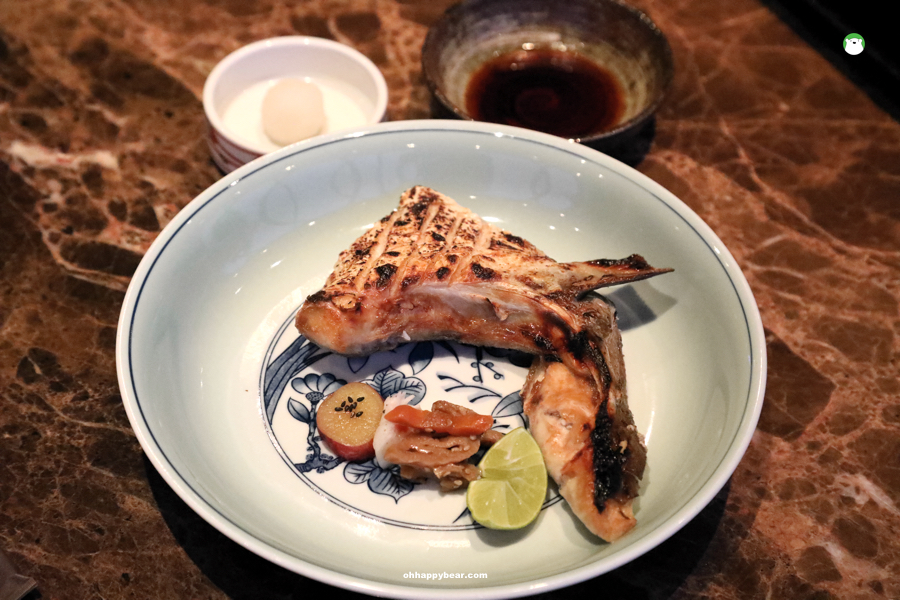 Above: My all-time favourite, grilled yellowtail neck with salt (Bt800++).
The yellowtail neck is my all-time go-to dish at Yamazato. It contains the juicy + a bit oily parts of the meat of the fish. Boney, yes, but with hunks of juicy, delicious meat. This is a simple dish done perfectly. Order a bowl of steamed rice and enjoy it with soy sauce and lime for maximum effect. Error! Filename not specified.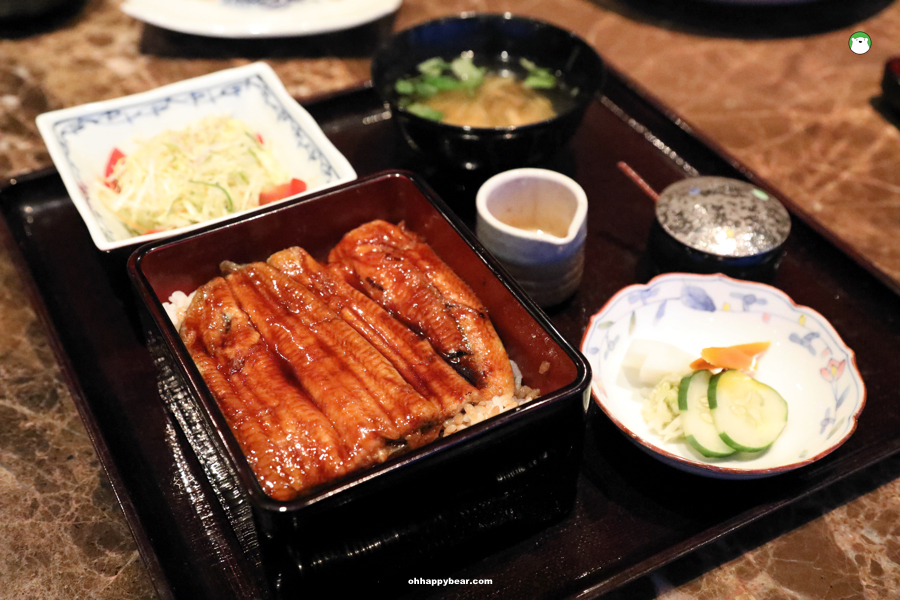 Above: Una Jyu (Unagi eel on rice) served with pickles, Bt1,300++.
My husband can live on unagi rice. Literally. This has been his favourite for, umm, forever. And here at Yamazato, they serve this meal for both lunch and dinner, hence always his go-to when we are here. The dinner is served in a set with veggie soup, salad, and pickles. So neat and delicious. And great value if you see the amount and, most importantly, the taste. Order this if you are looking for a hearty delicious meal, it is worth it.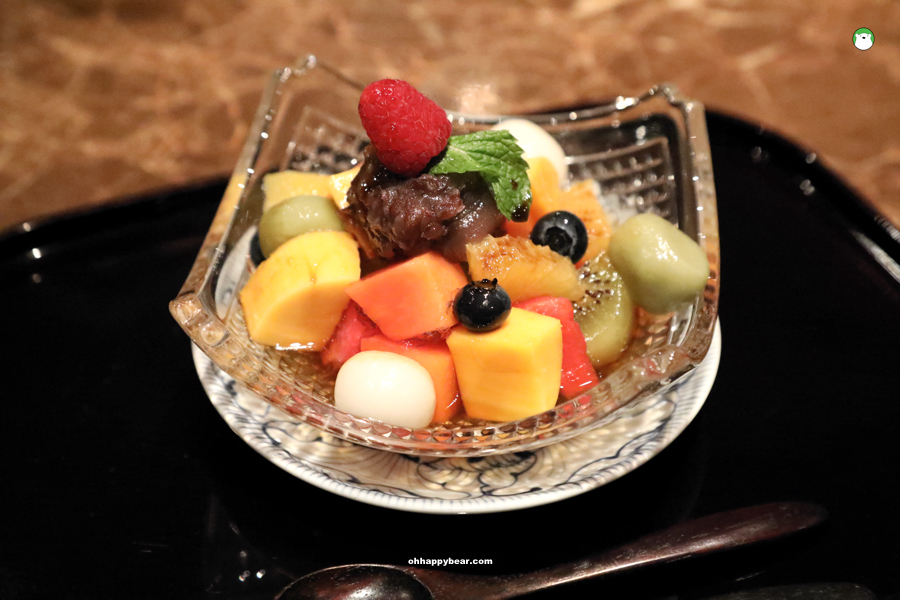 Above: Fruits Shiratama Anmitsu – assorted fresh fruits served with mochi and sweet red beans, Bt370++.
I cannot tell you how much I love Yamazato's delicate craftsmanship that appears in everything, desserts included. I love how they make food so beautiful, and usually take a minute or two to stop and appreciate it from all angles, no matter how much I want to tuck in and savour. Above is, as you can see, an art. A refreshing one, a delicious one, the one that will put you into a great wonderful state of mind right after the meal.
Yamazato 24F, The Okura Prestige Hotel Bangkok, Daily for lunch and dinner; Lunch: 11.30 – 14.30, Dinner: 18.00 – 22.30, T: (+66) 02-687-9000