Bangkok Top 10 Attractions
BEST THINGS TO DO | 10 ที่เที่ยวห้ามพลาดในกรุงเทพฯ
To make your visit to Bangkok even greater and more fantastic, here is a list of the top 10 attractions you just cannot miss. They are Bangkok's ultimate highlights, mandatory sites, things considered uber-essentials. Or, as a proud native would say, the true gems of Bangkok – the founding pillars of the capital's modern traditions and cultures. Enjoy!
1. THE GRAND PALACE AND THE TEMPLE OF THE EMERALD BUDDHA
MRT: Sanam Chai. Daily: 08.30 – 15.30 (except for days with royal ceremonies), Ticket: Bt500 inclusive of access to Wat Phra Kaew (The Temple of the Emerald Buddha), The Royal Thai Decorations & Coins Pavilion and the Queen Sirikit Museum of Textile (all located within The Grand Palace). Additional 200 Baht for a rental of a personal audio guide in English, French, German, Spanish, Russian, Japanese, Mandarin and Thai. More information and online ticket purchase, visit their
Above: The Temple of the Emerald Buddha is on the premises of the Grand Palace in Bangkok.
A top priority when in Bangkok, the Grand Palace is the gem of Rattanakosin Era and the founding palace and palladium of the sacred grounds. Prepare to spend at least a couple of hours wandering through it all. One tip though: wear comfy shoes that are easy to take off and put back on again, because you will need to do a lot of that during the visit. Also, it is good to know that to all Thai temples, one must take off the shoes prior to entering the main ubosoth (ordination hall) and viharn (prayer hall).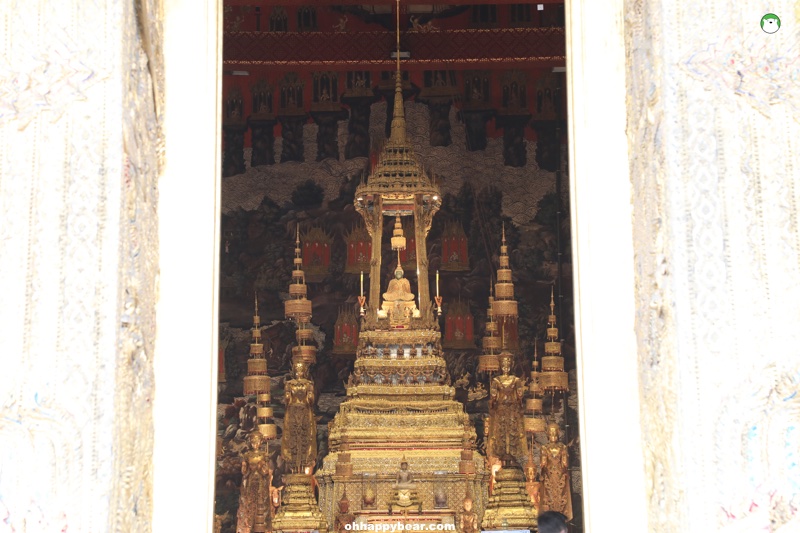 Above: The Emerald Buddha in the winter ensemble.
Also, dress appropriately. Long trousers and breathable short-sleeved shirt for men, and knee-length skirt (or trousers) and short-sleeved blouse for women. No shorts, no spaghetti straps. For more information about the dress code to the Grand Palace and the Temple of the Emerald Buddha
---
2. WAT PHRA CHETUPHON (WAT PHO)
MRT: Sanam Chai. Daily: 08.00 – 18.30, Ticket: Bt100.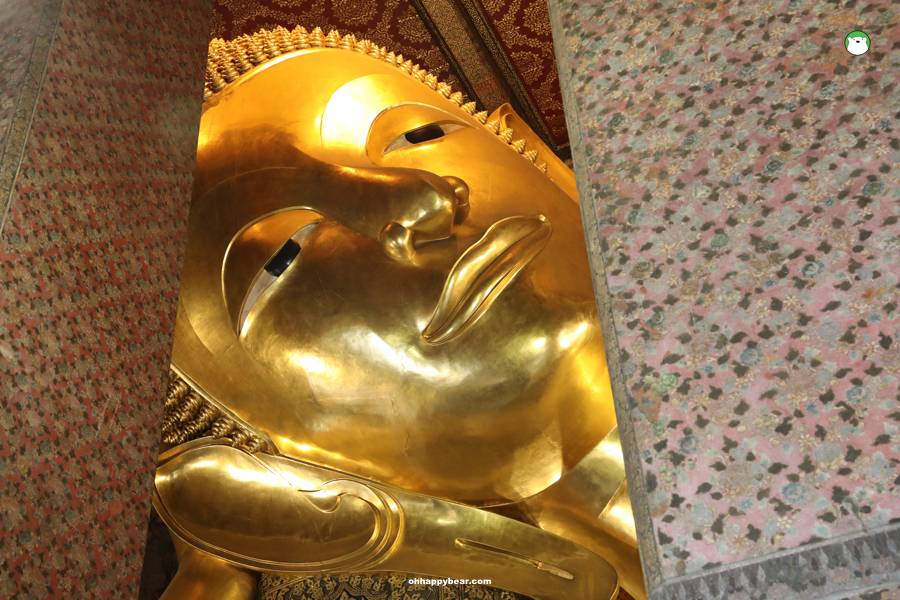 Above: The 46-metre long Reclining Buddha at Wat Pho is the addition to this ancient temple during the era of King Rama III.
One of Bangkok's first-class royal temples with a long and interesting history, Wat Pho was built to encompass two ancient temples that were on the grounds during the reign of King Rama I. The construction took over 7 years, and upon the inauguration in the year 1801, the temple was named by King Rama I 'Wat Chetuphon Wimon Mangklawas.' Apart from being a sacred place, Wat Pho was also Siam's premier public education centre. Today, you can walk through the temple's exquisite compound and observe all the engraved human anatomy – the founding wisdom of the Thai traditional medicine – that earned the temple a UNESCO recognition as a world heritage wisdom.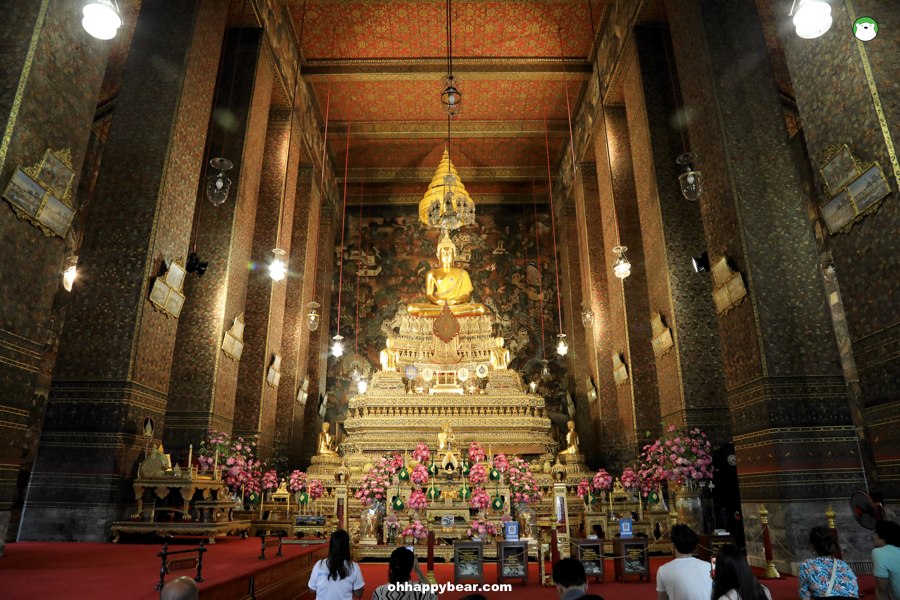 Above: Phra Buddha Theva Patimakorn inside the main chapel (Ubosoth) of Wat Pho. Built by King Rama I, the chapel was enlarged during the major additions by orders of King Rama III.
---
3. NATIONAL MUSEUM BANGKOK
Visiting Information: MRT: Sanam Chai. Wed-Sun: 09.00 – 16.00, Ticket: Bt200.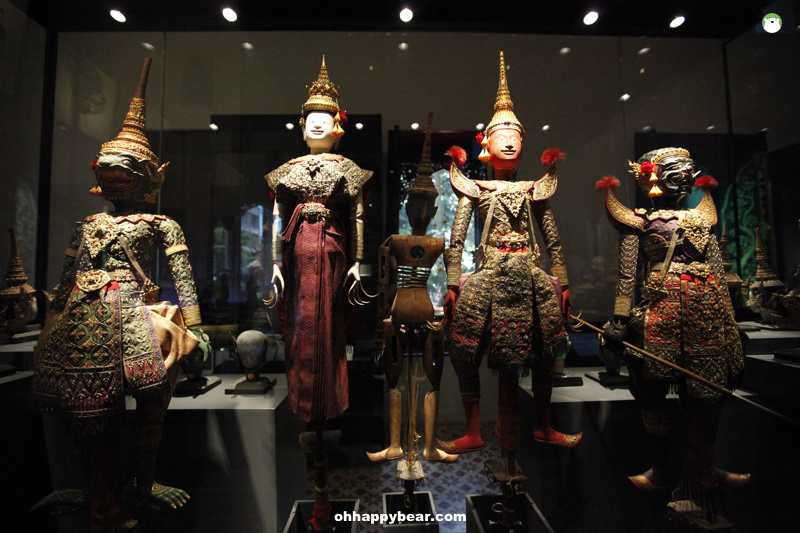 Above:The intricate details of small puppetry – some were said to be hand-made by King Rama II himself – an exhibition at the National Museum Bangkok.
This museum is the one place you can browse through the vast collections of Thailand's treasures. With the recent renaissance awareness of the Thai arts and cultures, Bangkok National Museum is the place history bugs find themselves going back to revisit and marvel at many chapters of Siam before it became Thailand, and all things surrounding those periods. Among their permanent exhibits include the newly arranged halls exhibiting the intricately beautiful Khon masks, and Thai puppetry, many of their rotating exhibitions are also worth a flight over.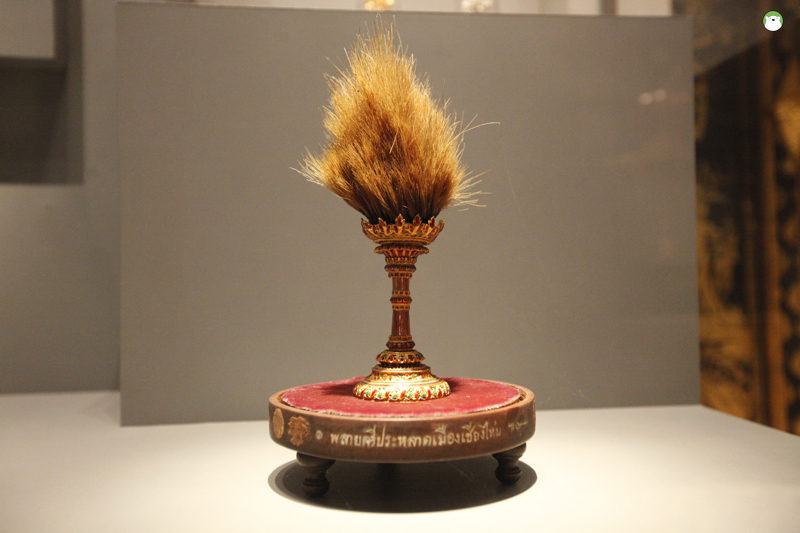 Above: Brushes from auspicious elephants of Chiang Mai on an exhibit at the National Museum Bangkok.
---
4. MUSEUM SIAM DISCOVERY MUSEUM
Visiting Information: MRT: Sanam Chai, Tue-Sun, 10.00 – 18.00, T: (+66) 02 255 2777, Bt200/adult. Check out the Muse Pass if you are museum bugs and want to explore them all.
When it first opened decades ago, Museum Siam shaded a new light for a museum exhibition in Thailand. With new-age storytelling techniques and installation, this place has become a model for other museums to follow suit – by making their storytelling more fun and vibrant to attract people. While the permanent exhibits portray the base stories of being Thai, many rotating works involve many thought-provoking topics that delve deeper into the local cultures by looking in minuscule different facets of our existence.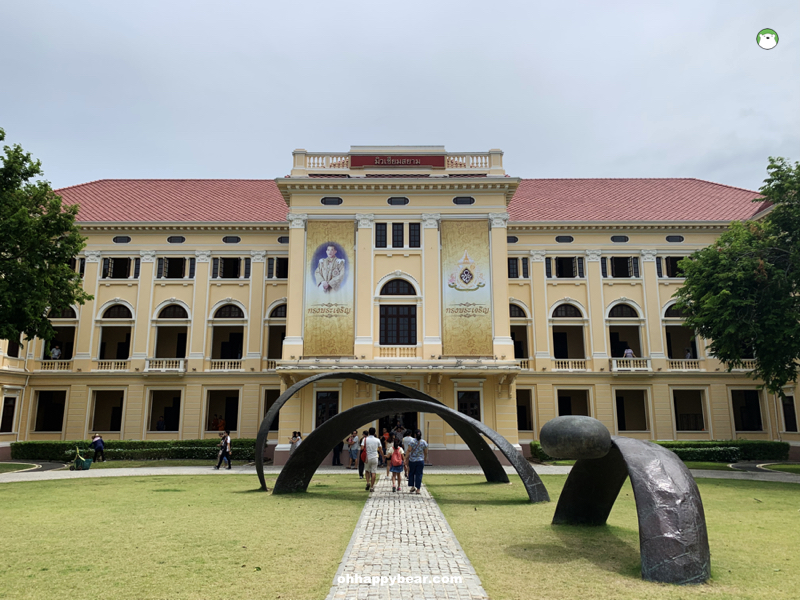 Above: The entrance of the Museum Siam is directly linked to MRT: Sanam Chai.
---
5. WALK THROUGH RATTANAKOSIN ISLAND
MRT: Sanam Chai or Sam Yod
Rattanakosin Island or Bangkok Old Town has so much to offer. This is the area you cannot miss while in Bangkok. Apart from the above highlights, there many other places you should spend time on. Visit our Rattanakosin Guide for more details. Related stories (more guides) are also available at the end of this post.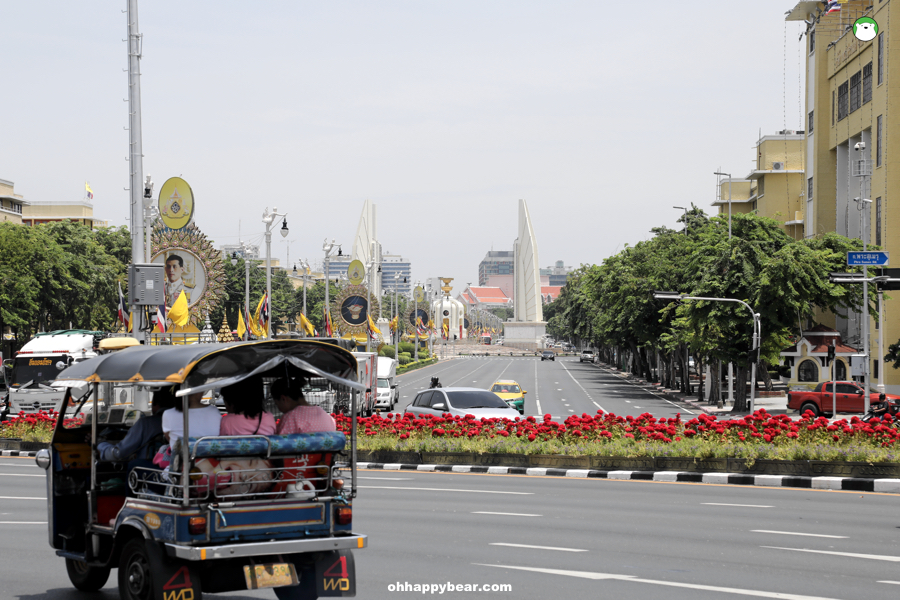 Above: Ratchadamnoen Avenue in the heart of Bangkok Old Town. A monumental strip, the one riddled with histories and important events of the nation.
---
6. CHINATOWN STREET FOOD
Visitor Information: MRT: Hua Lamphong or Wat Mangkon Stations. Nightly (except for Mondays when only stalls with shops are operating): from around 17.30 onwards.
Above: A street food stall in the Yaowarat area is stir-frying a plate of veggie with the diners looking on and ponder.
Touristy, yes, but still super-fun. Walking the vibrant streets of Chinatown at night has always been a highlight for those into a sweaty night out, with all things delicious, spicy, and exotic. From the beginning of Yaowarat Road (near Wat Traimitr or Samitivej Chinatown Hospital), one can walk, pause to eat, and repeat throughout the entire time. For highlights of what to eat, read 17 Dishes to Eat in Bangkok Chinatown.
My Journey: Finding Bangkok Street Food with a Visiting Chilean Journalist
Above: Yaowarat Road just never sleeps. This is an iconic scene of the area, all lit up by banners of lights and vehicles of all kinds.
---
7. WALKING THE STREETS OF 'TALAD NOI'
Visitor Information: MRT: Hua Lamphong. Daily (except Sundays when most shops are closed) from dawn till dusk.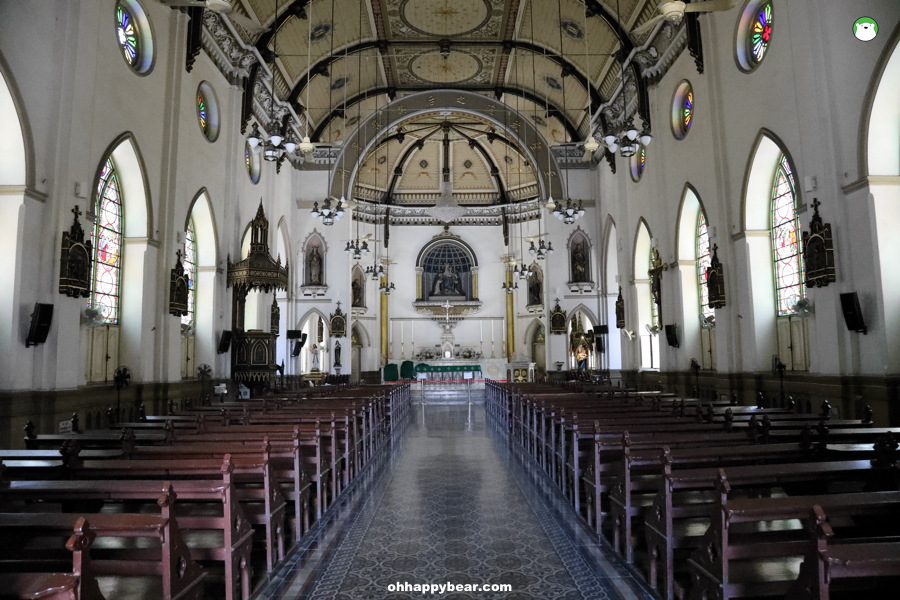 Above: The gorgeous Holy Rosary Church of Talad Noi represents the beautiful multi-cultural facets of Bangkok.
Talad Noi(small market) is a vibrant residential area that is the southern part of Chinatown. But unlike the business district of Yaowarat, Talad Noi (Small Market, literal translation) remains largely local with descendants of the settlers back in the days still residing and doing their business as usual. People here still know one another and that makes this community a close-knitted and unique.
Through the labyrinth of small alleys of Talad Noi, one can observe the multi-cultural facets of Bangkok. Chinese shrine side by side with the Catholic church, Thai temple and Mosque not too far apart. This is how we have been living since the beginning of the era. This place is known for 'Chiang Kong' for being the yards of second-hand car parts and engines.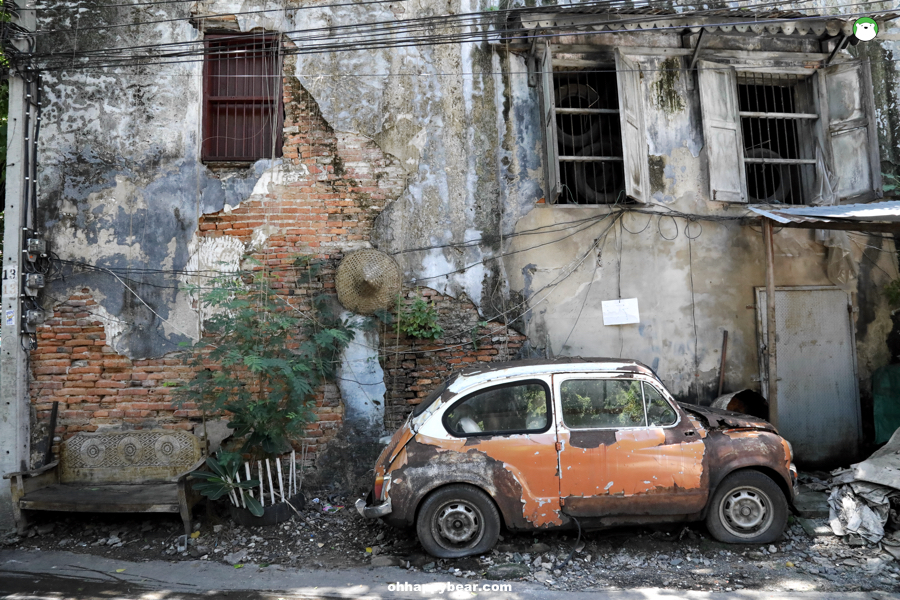 Above: Talad Noi is an area that requires endless stops. Small winding alleys and walkways are dotted with surprises, many as photogenic as this one.
---
8. SUNSET OVER WAT ARUN
Visitor Information: MRT: Sanam Chai
Wat Arun at dusk can easily be the most coveted and iconic sight in Bangkok Old Town. The Temple of Dawn glows with shades of lights, especially on a bright day when shades of lights dramatically paint the sky. Best way to soak it all in is to have a drink at one of the riverfront bars and restaurants and see for yourself the amazing transformation of an evening.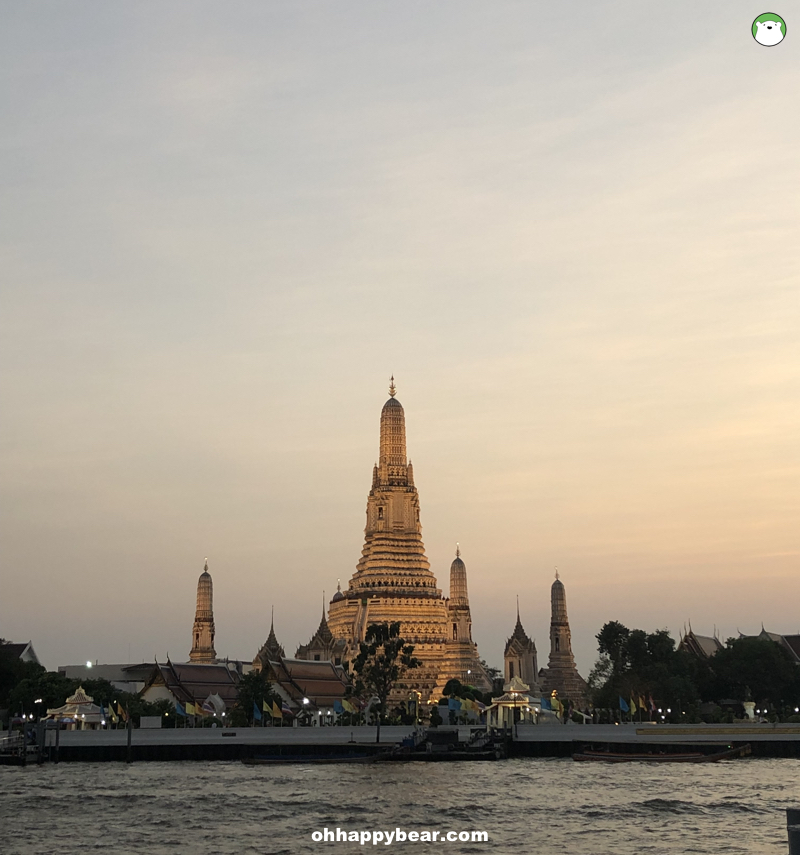 Above: Wat Arun or the Temple of Dawn makes a perfect backdrop when sundown over the other side of Bangkok.
---
9. KHLONG BANG LUANG + PUPPET SHOW
Visitor Information: MRT + BTS: Bang Wa. Free boat shuttle available from Saphan Taksin-Phetchakasem Pier. Or, should you be in an ample group, you can charter a long-tail boat at about Bt1,000 for an hour from the major piers along Chaophraya River. For more information about Bangkok Canal Boat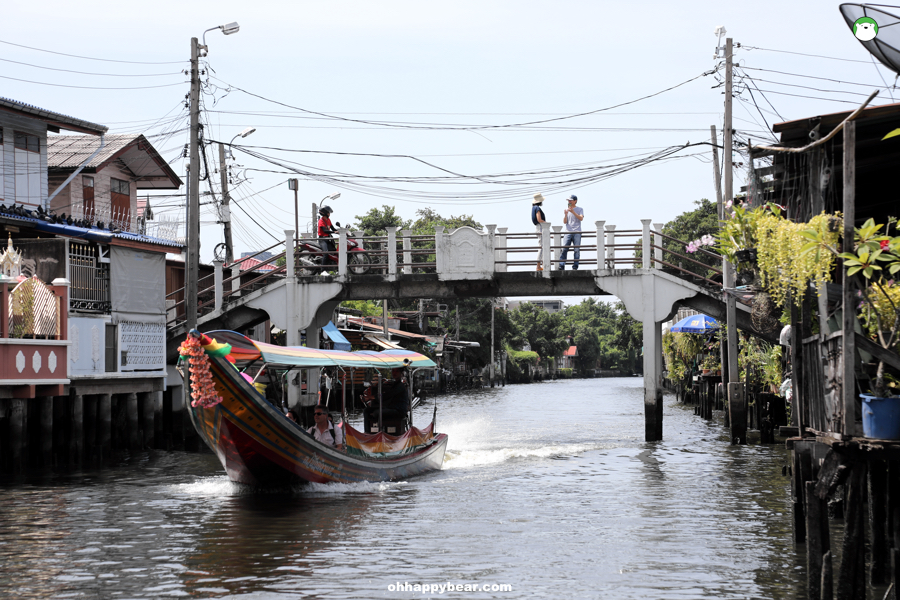 Above: Bangkok can be mapped through its sprawling networks of rivers and interconnected canals. Above is the area of Klong Bang Luang that used to be a vibrant passageway when canals were the main thoroughfares of the day.
The old canal-lining community of Khlong Bang Luang has recently been revived for being the site of Artist House at Khlong Bang Luang where masters of Thai puppetry and traditional Thai dances regularly perform at 14.00 every Wednesday and Friday – Sunday. They are the troops of performers whose mainstay relies on events and private shows, so here they are entertaining on their own grounds, entirely on gratuity. The brief, entertaining show is upbeat and calls for the audience's participation. A fun afternoon by the canal.
The Artist House also offers drinks and a painting class. Their gift shop offers t-shirts and many Thai-style trinkets. They are open daily, should you be there on the days that the show is not on, from 10.00 – 18.00. For more information, call T: (+66) 868-5279
Klong Bang Luang is most lively come weekends. Many shophouses are open and offer their best fares cooked fresh. Walk around and soak in the nostalgic vibes of oldie canal-side Bangkok. A great place to see another facet of the vibrant capital.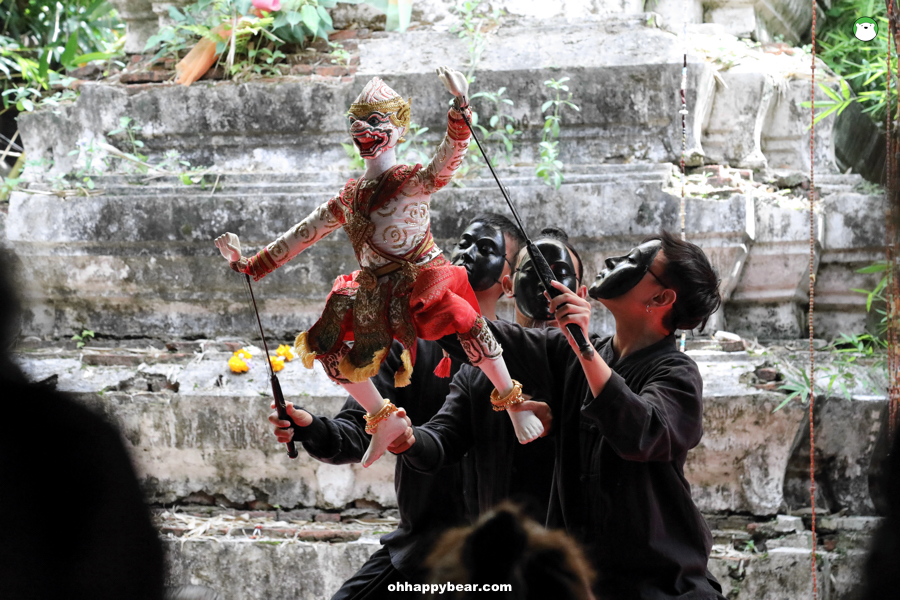 Above: The lovely and fantastic puppet show by the troops at Artist House of Klong Bang Luang. For performance details, read above.
---
10. FOOD AT OR TOR KOR MARKET + CHATUCHAK MARKET
Visitor Information: MRT: Kamphaeng Phet (with direct access to Or Tor Kor Market) or BTS: Mo Chit (requiring a short walk to Chatuchak Weekend Market). For Or Tor Kor: daily from morning around 9.00 – 15.00. Chatuchak Weekend Market: Sat-Sun: from morning till late afternoon.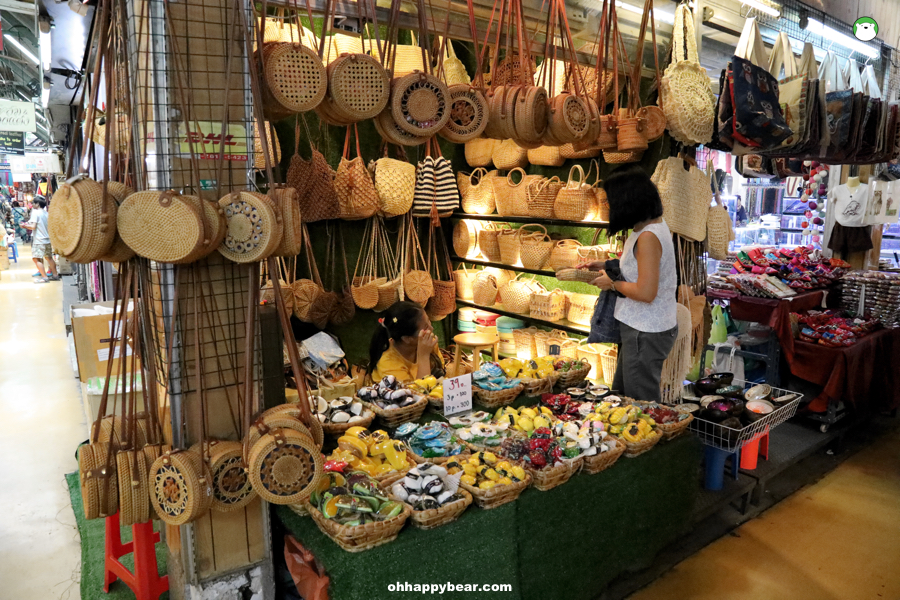 Above: Chatuchak Weekend Market is a place one can let loose one's shopping spree. This is one of the best places in Bangkok to follow your heart's desires in all things pretty and crafty.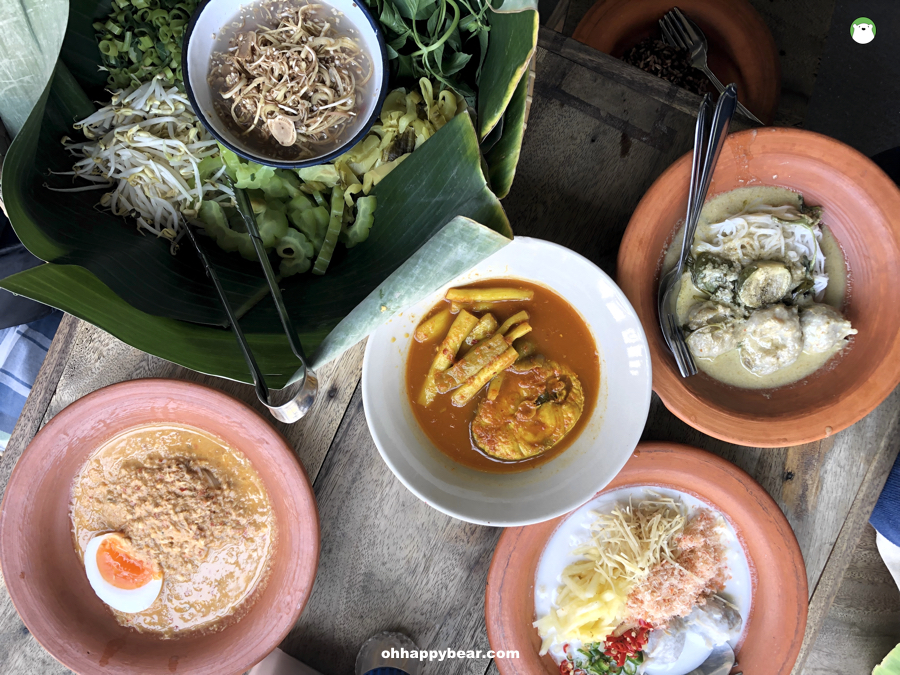 Above: At Prik Yuak at Chatuchak Weekend Market on weekends, Thai food at its best with a variety of curries and rice, rice vermicelli, and side dishes.
There are probably two main reasons you might want to go to Or Tor Kor Market and Chatuchak Weekend Market on weekend. First, go there for a shopping spree. Chatuchak Market is one of the best places in Bangkok you can lose yourself in a free materialistic will. A ton of colourful fashion, accessories, trinkets and even traditional Thai kitchen utensils like mortars and pestles, tiffin carriers, and Thai-style celadon wares. All pretty and collectable.
But Chatuchak is also a great place you can tuck into Thai food in all its traditional glories. Rice and curry or Khao Gaeng – a true form of Thai eating (curry and rice, and other side dishes), can be found here in great array. Untwisted, no-frills, delicious. If you are there on a weekend, head to Prik Yuak at Chatuchak Weekend Market (MRT: Kamphaeng Phet, Exit 2, T: (+66) 081-648-2282). This long-standing stall is known to be Bangkok's top places for their neat preparations and varieties. Delicious.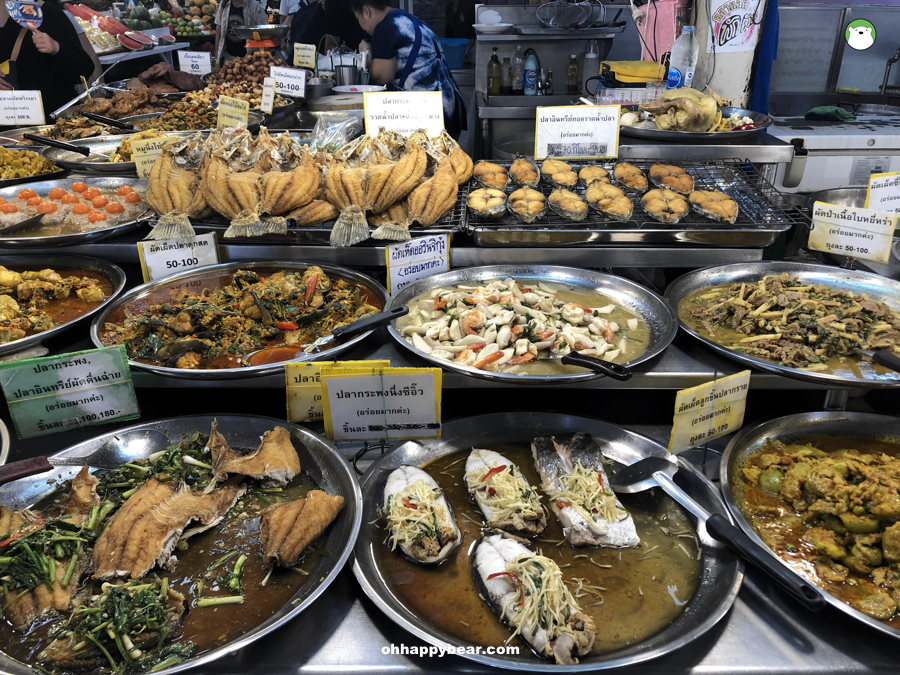 Above: A typical selection of Thai dishes – all to be bought back home and eaten with rice. Or order some and have a hearty munch at the provided food court area in Or Tor Kor Market.
But if you happen to be on that way during weekdays, you can always try something at the Or Tor Kor Market. Known to be one of Bangkok's premium (expensive) food market, this is a place loaded with ready-to-eat. Choose from any stall you fancy and grab a seat at their provided food court. From exotic Thai fruits (durian, mango, jackfruit) to satay, grilled chicken, som tam, river prawns, blue swimming crabs, etc .. all made ready to munch.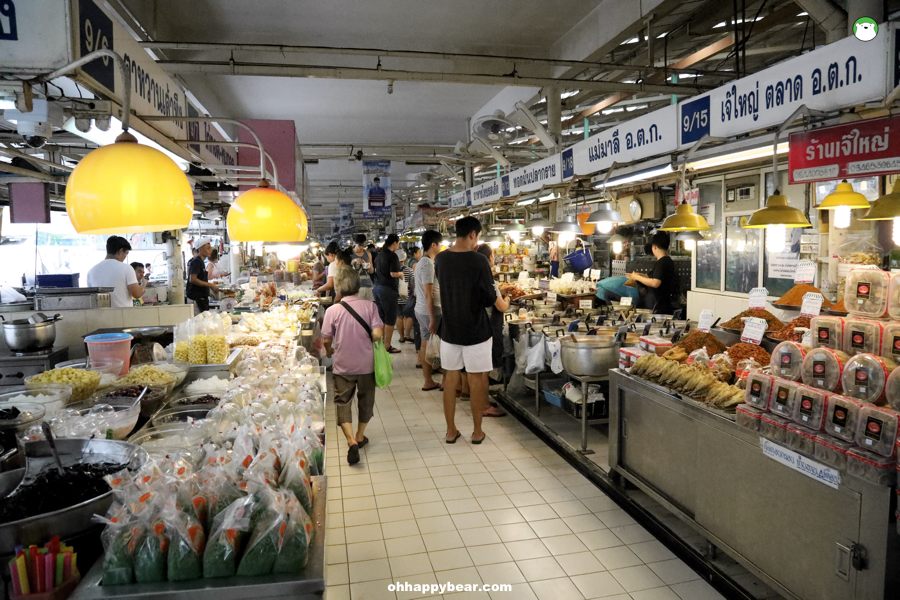 Above: A food-crammed alley of Or Tor Kor Market, known to be one of Bangkok's premium fresh food markets in town.