Bangkok Shopping Guide + Where to Shop in Bangkok
Bangkok Shopping Guide + Where to Shop in Bangkok

Bangkok is a shopping paradise. And each mall, each place, each street has its own personality and specialties. Now that the world is facing large-scale gentrification of all things, Bangkok arises as a place where local charms still reign and shine. If you are looking further than the global brand names, Bangkok is the place to come and stock up on all things exotic, crafty, and unique. Also here are some tips for VAT refunds, too. Enjoy!
BANGKOK MALLS BANGKOK MALLS
First things first, malls are everywhere in Bangkok. But for visitors, those within the Bangkok CBD would be the best bet. Here is a brief rundown of what to expect when you are inundated with choices.
BTS: PHLOEN CHIT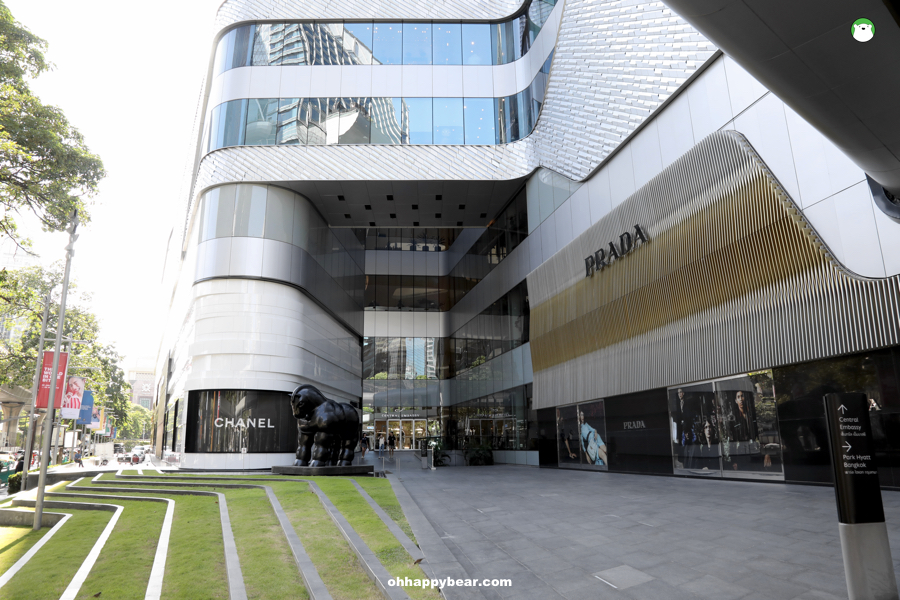 Above: The Central Embassy in Phloen Chit area of Bangkok.
CENTRAL EMBASSY (10.00 – 22.00)
Built on the grounds that used to be of the British Embassy in Bangkok, Central Embassy took on a new approach of the high-class department store with its well-thought-of and avant-garde designs and interiors. Packed throughout its floors are specialty shops, brand names – some with their exclusive outlets here – liquor and spirit shops, MUJI, as well as Truefitt & Hill. Eathai – one of the best Thai-style food courts – is on the lower level, while on the top floors are cinemas, more restaurants, and floor-wide bookstore plus food-court-style cafes and eatery.
CENTRAL CHIDLOM (10.00 – 22.00)
Amid the current breakneck competitions of stores and shops, Central Chidlom lives on its legacy of being 'the' place for savvy and rich locals. Small in spaces compared to other newcomers, Central Chidlom is packed with well-curated, elegant, and timeless items – from designer's brands to cosmetics and specialty shops. What you cannot find in many department stores (such as a particular shade of lipstick, or a certain brand of perfume), you might be able to find them here. Their top-floor food court also offers decent varieties of deliciousness. Their main bookstore B2S on the 7 Floor has Starbucks within – a great escapade to all the hustles of the city.
BTS: CHIT LOM
Above: The Gaysorn Village at Ratchaprasong area of Bangkok.
GAYSORN VILLAGE (10.00 – 20.00)
Long before all malls started to call themselves 'specialty stores,' Gaysorn Plaza, as it was known then, was Bangkok's de facto specialty store. The place used to be the exclusive club for the world's top brand names. Prada had their first flagship here, along with Dior, Louis Vuitton, and much more. Gaysorn Village has gone through some facelifts. The current phrase is a combination of hip, local designers + high brands, exclusive jewelry and so on. They also have Riedel Wine Bar where top wines around the world are served by the glass and the world's exclusive tea lounge – 1823 Tea Lounge by Ronnefeldt.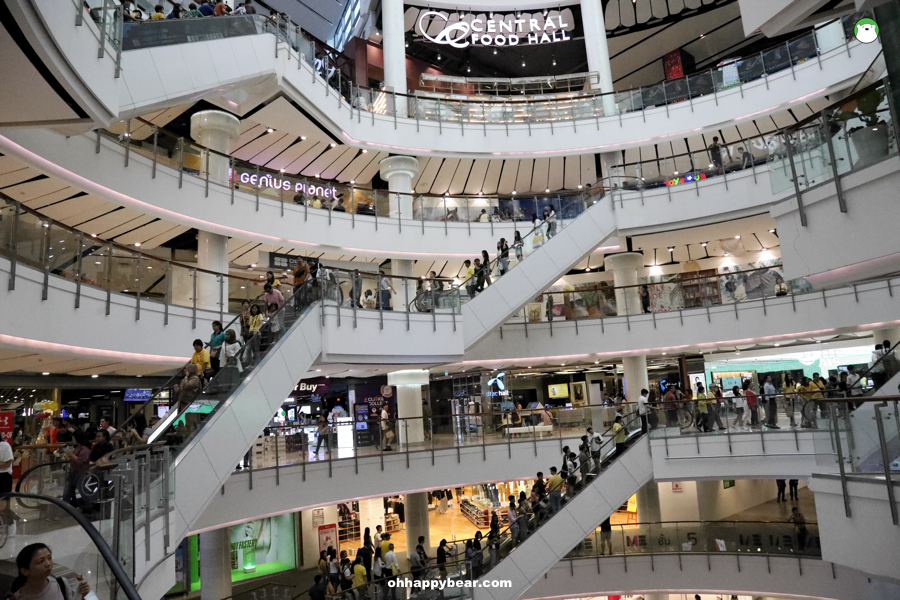 Above: The interior of Central World in Ratchaprasong area of Bangkok.
CENTRAL WORLD (10.00 – 22.00)
This is a mall for all people – with everything everyone would want in a day's out into a mall. High street brands, local designers, crafty sections, electronic gadgets and appliances, sportswear, casual wear, and so on. Plenty of restaurants upstairs, some good enough to mention – Kam Poon for Thai Esan fare, Din Tai Fung for shrimp fried rice, San Yod (for Chinese stir-fried noodles). In a pinch, their sprawling food court and supermarket on the top floor provide food values of eclectic choices. Adjacent to this mall is Isetan Department Store and the walkway leading to Platinum Mall (wholesale fashion and accessories) and Pratunam area for more fashion and wholesale opportunities.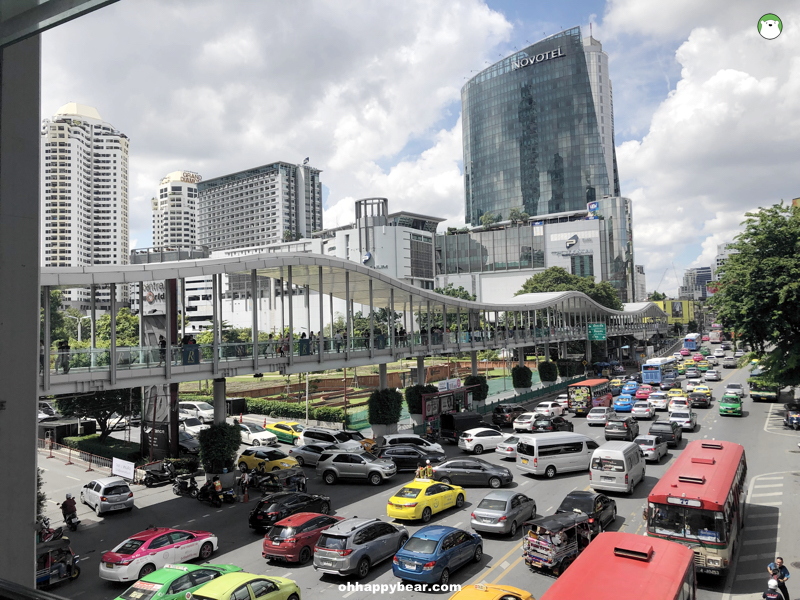 Above: The walkway that links Central World, Gaysorn Village, and The Platinum Mall together.
PLATINUM + PRATUNAM AREA
A maze would describe the place. Stacks of floors, each crowded with small and crowded shops brimmed with the latest fashion, or the turn-around of the latest fashions. Everything you think you'd want or don't know you want until you see it. From petite to oversized, from prom dresses to casual, from formal attire to sportswear. All kinds of accessories, from benign to wild. A great place to get lost and shop to your heart's desire. This is the world of fast and cheap fashion, just to inform you what you are getting yourself into.
BTS: SIAM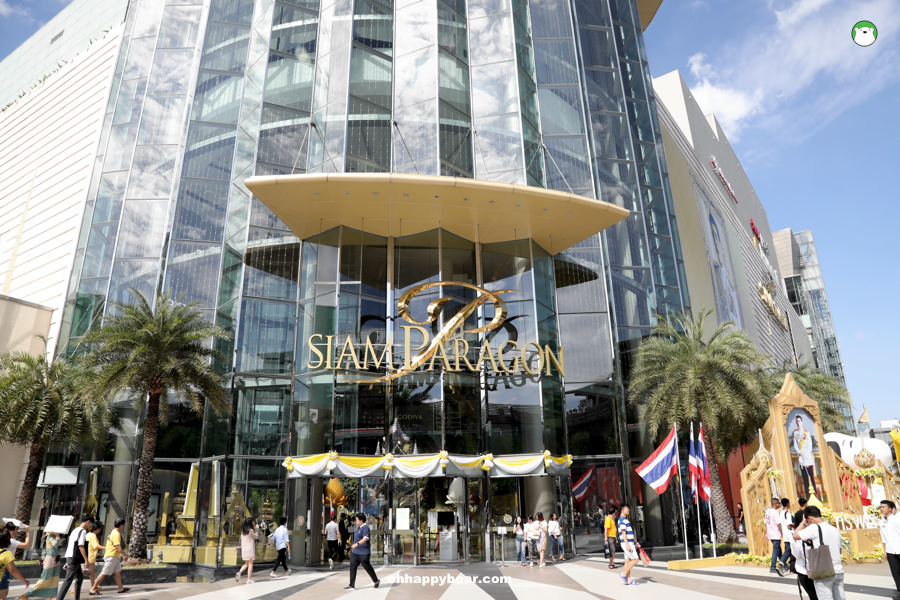 Above: The gleaming facade of Siam Paragon in Siam area of Bangkok.
SIAM PARAGON (10.00 – 22.00)
A sprawling mall with a section of a department store and a section of the mall, inclusive of cinemas and loads of restaurants and cafe, Siam Paragon will appear to be always crowded thanks to its location at the main conjunction of the BTS lines. Again, this place screams brand names – Hermes is here, along with Chanel and Bottega Veneta. But for those into sewing, there are also fabric shops – Nai Chan and Europa – that sells lovely premium prints by the yard. Top floors are more foods and Thai-style crafty souvenir shops.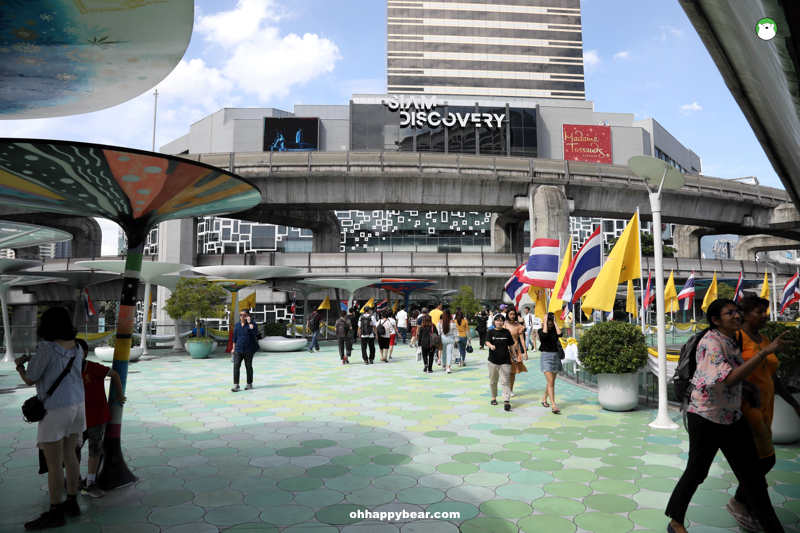 Above: The Siam Discovery as seen from the BTS walkway.
SIAM DISCOVERY (10.00 – 22.00)
The recently renovated Siam Discovery poises itself to be all about edgy designs and non-mainstream fashions, so expect to find exclusive designers brands, design-centric gadgets, home accessories featuring particular collections and series not available anywhere else. SMEG retro fridge is available in more colours here than others, for example. Thai designers featuring Thai cotton and silks – all gorgeous and avant-garde – are on the top floor, sharing the space with an all-white, futuristic-looking food court where you can order your foods using a table-side iPad.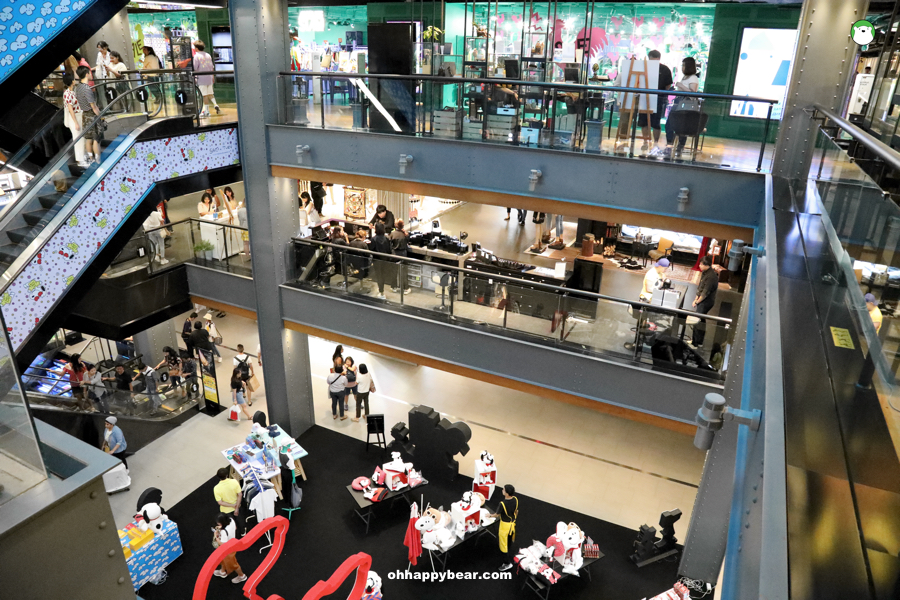 Above: The interior cluster of Siam Center.
SIAM CENTER (10.00 – 22.00)
As Bangkok's very first department store back in the early 1970s, Siam Center used to be 'the' place for Thai teens – all fashionably-decked as they could – to hang out, especially on the white marble staircases upfront. The staircases had now been redone and resized in, well, black, that had substantially subdued its previously glowing persona. Inside, though, Siam Center is still the place for local designers to shine. Some top designers have been having their outlets here for decades, a great testament that this is still the breeding ground of the local fashion industry and more. Food courts are available upstairs; the whole place is interspersed with small cafes and restaurants.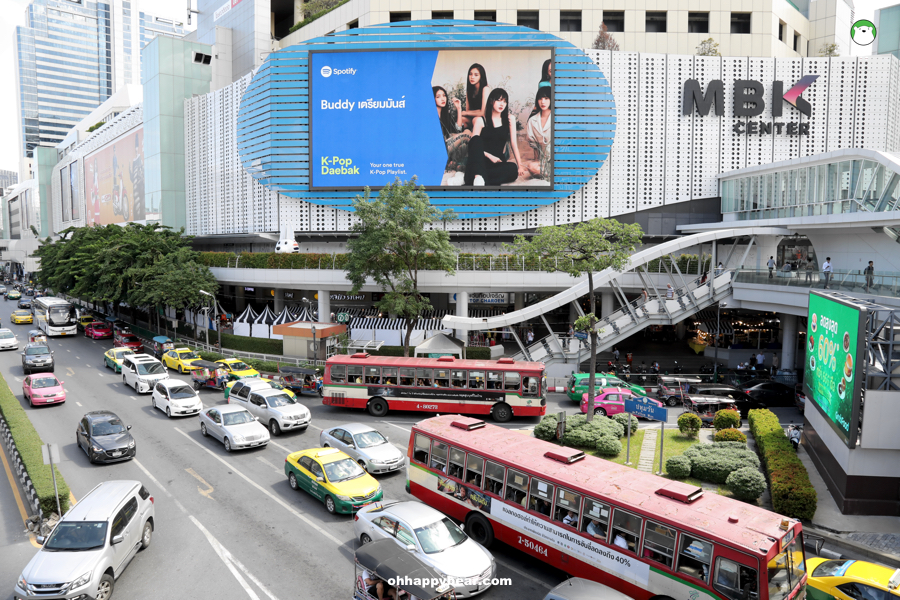 Above: The MBK Center of Bangkok.
MBK (10.00 – 22.00)
One of the longest-standing indoor malls in Bangkok, MBK is an institution of Siam. It used to be that locals will combine their trotting routes into a triangle of Siam Center (above), Siam Square (below), and MBK to finish it off and then hail a cab home. MBK is a sprawling indoor market, selling everything from knockoff fashions to precious, collectible watches. This is also a haven for camera lovers and those into espionage – with multiple shops selling not just the cameras and surveillance equipment, but also all kinds of related accessories – at competitive pricing. Enjoy browsing and bargaining, all in the cooling comfort of an air-conditioned building.
SIAM SQUARE
Opposite Siam Center is the area known as Siam Square. With parallel rows of sois and alleys packed with shops, this has been an open-mall and the heartbeat of the Thai fashion scenes for decades. This is the center of the latest and newest happenings in Bangkok. This is another breeding ground for local designers, so expect to see something unique and exclusive. The scene is young, for it is the backyard of Chulalongkorn University and more, and also with the BTS hub, people come here to get the vibrancy of the city, and the inexhaustible urbanite attitudes. The best time to be there is early afternoon, roughly from 14.00 onwards.
BTS: ASOKE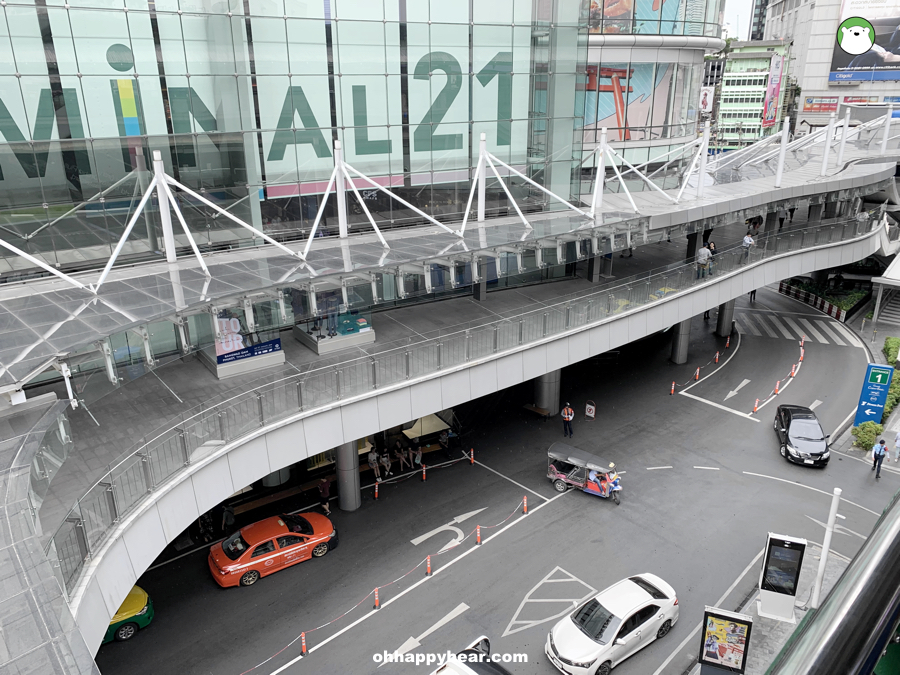 Above: The Terminal 21 in Asoke area of Bangkok.
TERMINAL 21 (10.00 – 22.00)
Asoke used to be mall-dry until the huge existence of Terminal 21 (named after Sukhumvit 21, the location of Asoke) that was built on the benefits of being right next to the BTS line. This has become a perpetually crowded mall packed with, again, all things wearable, ostensible, and edible. Themed to be an airport terminal with interspersed made-up backdrops for photos, this mall offers a huge collection of small individual shops selling their specialties. Plenty of T-shirt shops with interesting patterns, accessories, bags, shoes, as well as nightgowns and tuxedos for special occasions.
BTS: PHROM PHONG
THE EMPORIUM + THE EMQUARTER (10.00 – 22.00)
This duo of shopping malls dominates the area on both sides of the roads. While The Emporium, once a cosy and plush backyard mall for those living in this residential cluster of Sukhumvit, retains its homey charms, The Emquartier – its younger sister – is loaded with glitters and brand names – from Stella McCartney to Paul Smith to Jimmy Choo and Tory Burch plus hipster dining options from Roast (for all-day breakfast) to Gok Fa Yuan (Hong Kong style noodles) and Mozza pizzeria.
MRT: KAMPHAENG PHET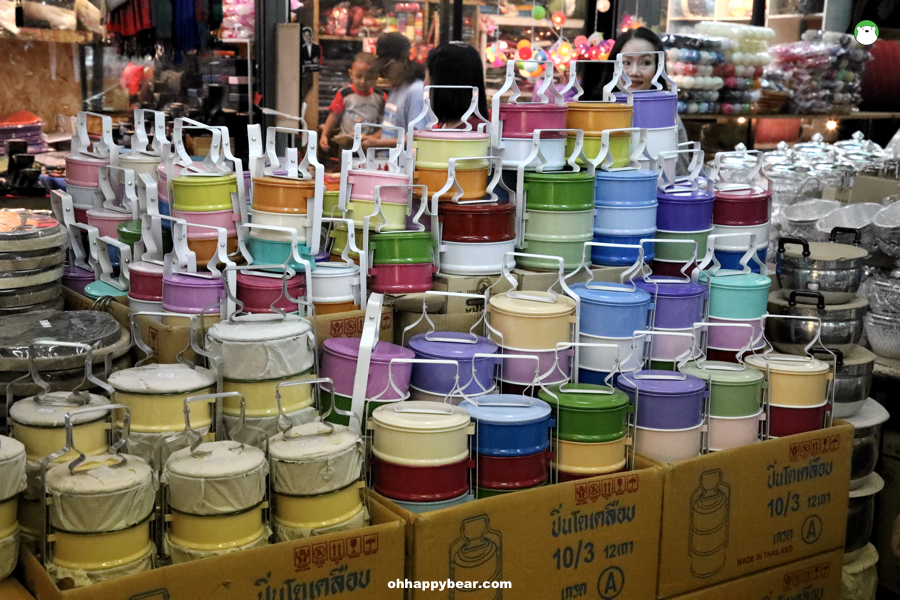 Above: The collection of tiffin carriers at Chatuchak weekend market.
CHATUCHAK WEEKEND MARKET (WED-THUR: OPEN FOR PLANTS + FLOWERS, FRI: OPEN FOR WHOLESALES, SAT-SUN: OPEN FOR ALL AREAS – ALL FROM 06.00 – 18.00)
Forget all flea markets of the world and head to Chatuchak Market should you wish to go wild with a shopping spree. This sprawling space is an institution when it comes to all things that would make perfect souvenirs of Thailand. Even though the whole area is marked into sections, it is more likely that one would just walk and walk and walk through, pick and bargain, and buy and then ask someone for the way out hours later. Highlights here are hard to describe, it is a maze, packed with all things. Fashion aside, there are also celadon, old china, tea sets, hand-woven fabrics, Thai silk, home accessories of all kinds, rare books, and of course, loads of peculiar trinkets you might not be able to find anywhere else.
Above: Dried Thai fruits make good tasty souvenirs – these are from Or Tor Kor Market on the other side of Chatuchak Weekend Market.
TIPS FOR CHATUCHAK MARKET
Shop around, walk around first if you can to scout if the pieces you are looking for are also available in other shops, which they often are. So you can compare prices and all.
For large items such as furniture, the shop usually provides shipping service. Ask first and field the prices.
Like Pratunam and Platinum, Chatuchak is more about cheap and fast fashion which does not necessarily interpret as quality. But amid them all are some home-grown local designers who offer their ware at perhaps higher prices, but still reasonable. Again, feel the fields first and see what you like best.
For those into Thai cooking utensils such as granite pestles and mortars, tiffin carriers, woks, large woven slotted ladles and so on, they are all here. Take your time to browse and walkthrough. Bring your own electric fan.
MRT: THAILAND CULTURAL CENTRE
TALAD ROD FAI (NIGHT TRAIN MARKET) – NIGHTLY FROM 17.00 – 01.00. RATCHADAPISEK ROAD, BEHIND ESPLANADE MALL, MRT: THAILAND CULTURAL CENTRE (EXIT #3)
One of the most vibrant and longest-standing night markets in Bangkok, Talad Rod Fai is packed with shops selling colourful things from collectible vintage items to the latest fashions. The large space is divided into zones – foods of all kinds, then shops, and then bars for mingling and drinking. Talad Rod Fai is a type of what we call 'Talad Nad,' meaning an 'ad hoc' kind of trading space that originally derived from a scheduled gathering of merchants. Now, however, as you can see, this is an organised and systemised market with regular special events. Merchants vary, and it is always fun even just to walk around. Saturdays are usually packed, just so you know. This is an outdoor market, bring a personal electric fan, and enjoy the best people-mingling scenes. Beware of your belongings. Best to avoid fresh, uncooked foods, especially shellfishes.
BTS: SAPHAN TAKSIN
ASIATIQUE THE RIVERFRONT – NIGHTLY FROM 16.00 – 22.00, CHAROENKRUNG ROAD, BETWEEN SOI 72-76. T: (+66) 02-108-4488. BTS: SAPHAN TAKSIN, THEN FREE BOAT SHUTTLE TO THE ASIATIQUE, SHUTTLE BOATS RUN FROM 16.00 – 23.30.
Built on the restored East Asiatic Port of the late 1800s, Asiatique The Riverfront shines a new light in Bangkok's shopping and Thai-cultural immersing scenes. Apart from shopping (best for Thai traditional souvenirs and local designers, local wears such as wide-legged cotton pants, elephant-patterned everything, and gold-trimmed silky pillowcases, Asiatique is also the place people come and see the rare Thai traditional performances such as Muay Thai (Muay Thai Live) and the glittering and fun mini-puppetry show (Joe Louis). To get the best bird's eye view of Bangkok riverside, take a seat at their legendary Asiatique Sky (Bt400/adult, Bt250/child).
---
VAT REFUND FOR TOURISTS
Tourists are entitled to a 7% VAT refund when purchasing goods at shops displaying a VAT Refund for Tourist Logo. And you can proceed with the VAT refund procedure either at many downtown malls or at the International Airports – Don Meung and Suvarnabhumi airports.
More information about claiming your VAT refund at downtown is here.
Or should you wish to make the refund at the airport, allow enough time, details of the process is available here.
Visit The Revenue Department of Thailand's website for all the details.
Need recommendations on what to buy? Read our Top 10 Best Things to Buy in Bangkok.