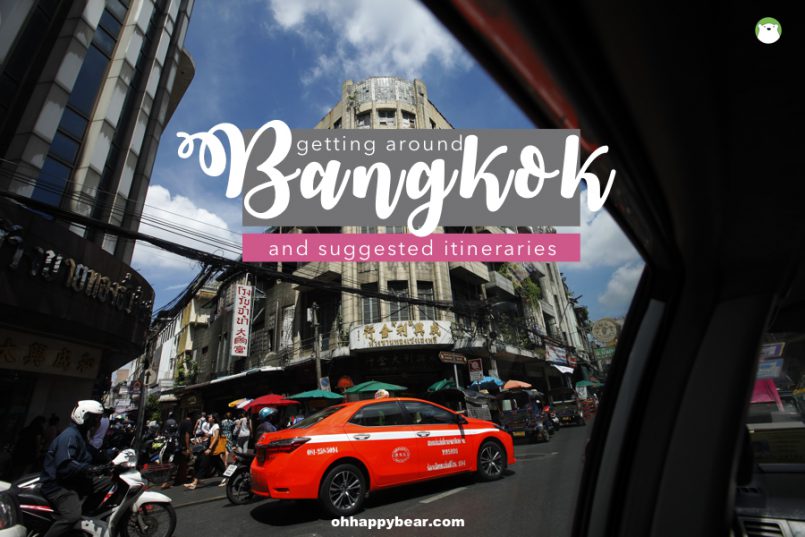 Bangkok is sprawling, but with this local guide, you will be able to get around with ease. Here are some tips on Bangkok's major public transport and suggested itineraries spanning from Bangkok's CBD of Phloen Chit area. Best to plan your visit into zones, and tackle them during the off-peak hours. Given our perpetually-snarled traffic, it is always wise to use the network of BTS, MRT, and walk as much as you can. We also cover how to get to town from the airport at the bottom of this post. Scroll down.
PUBLIC TRANSPORT IN BANGKOK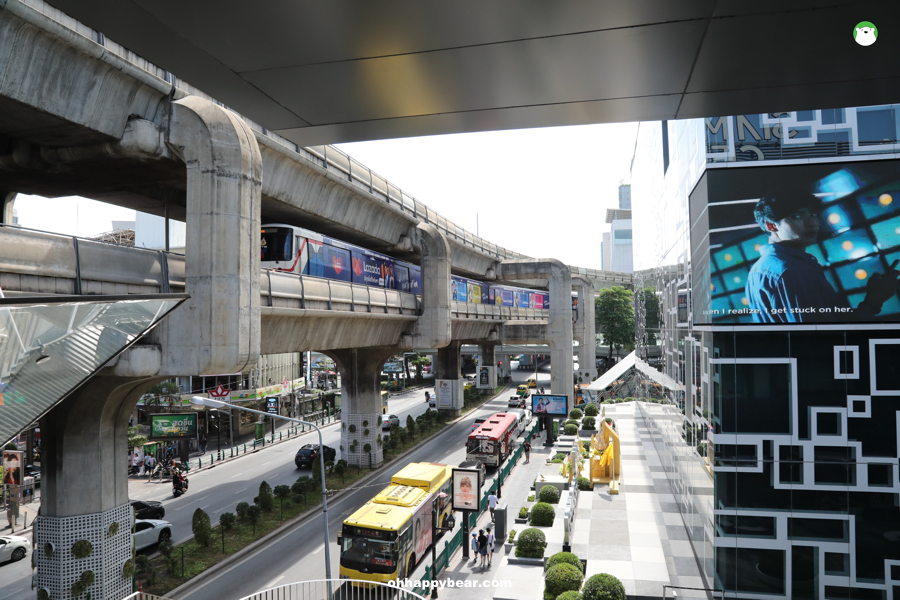 Above: BTS and MRT are Bangkok's main public transport with interconnected lines for a pretty convenient way to explore Bangkok.
Once you get settled in the heart of Bangkok, you will find plenty of ways to get around. The BTS Sky Train and The MRT (The Metro) have a good network that covers most of Bangkok's main attractions, shopping and business areas. Throw in the Chaophraya Boat service and you get a complete route for the whole inner area of the capital.
Here are the links to their official websites, easier to peruse and study their routes beforehand.
BTS (The Sky Train): Click for BTS Route Maps
MRT (The Metro): Click for MRT Route Maps
Chaophraya Boat: Click for the Boat Route Map
IN A PINCH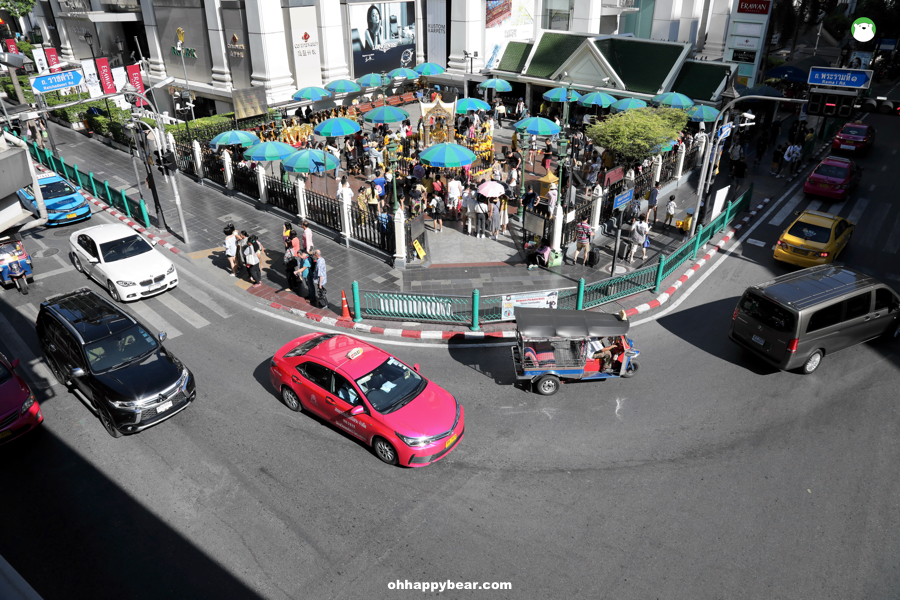 Above: Taxi and Tuk Tuk are among the choices, but avoid rush hours and tourist-dense areas for they can become scarce and very expensive.
Taxi & Tuk Tuk
Between the two, taxi is more regulated with the metered system, so you pay per distance and time, which, for the most parts, are inexpensive. However, during rush hours and the pouring rain when you need a car the most, the taxi will become rare and many will not accept passengers. Local advice is to be patient with the public transport that can also be crowded and tone up your legs.:D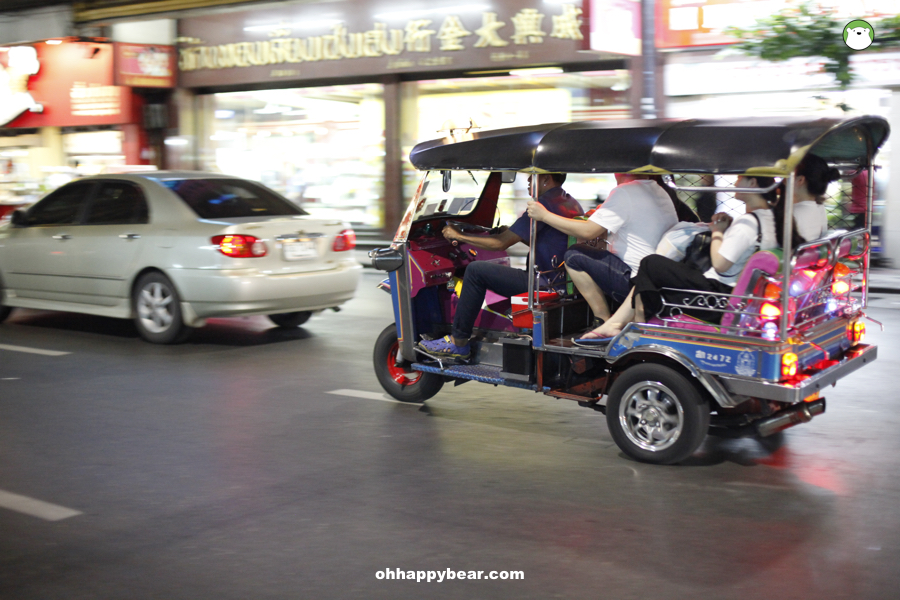 Above: The scenic and adventurous ride on Tuk Tuk is a favourite thing to do among visitors.
Tuk Tuk, meanwhile, can be a wild guess. Since they have become its own attraction, Tuk Tuk, which is not metered, can ask for whatever fee they like, especially if you hail one from Bangkok's main, tourist-dense attractions. Among the worst places to hail a Tuk Tuk include the areas near the Old Town, or Rattanakosin Island, Chinatown, and Hua Lamphong station.
SUGGESTED ITINERARIES:
Zoning your days is the best way to cover Bangkok. If possible, stay off the rush hours, and allow more times to visit each place. Make sure you pack a day's worth of necessities – umbrella and hat are a must, and also perhaps a hand-held electronic fan? Most of these places here are connected, some are walkable, and many offer hop-on-and-off opportunities. Wear a comfy pair of shoes!
1. BANGKOK CBD ATTRACTIONS & SHOPPING MALLS
If you are based in Bangkok's CBD such as the Phloen Chit station, you can either walk to our main shopping malls or take a short ride of the BTS to fulfil your heart's desire for things. As you can read from our Shopping Guide, Bangkok's major shopping malls are clustered along the BTS line. Opposite the BTS Phloen Chit is the Central Embassy, where you can walk through and get to the BTS Chit Lom where you can walk further to Siam Square area. Phloen Chit is a recommended place to stay in town. You can also read our Bangkok Long Weekend Guide, Bangkok Top 10 Attractions, Staying at The Okura Prestige Bangkok for more information.
SUMMARY
From BTS Phloen Chit >> walk to Central Embassy >> Walk to Central Chidlom >> Walk through to BTS Chit Lom >> Walk to Central World >> Take the Skywalk to Siam Square >> Walk through Siam Paragon >> Explore Siam Square, Siam Discovery, MBK, Bangkok Art and Culture Centre (BACC) and you will get all Bangkok's main shopping area and Ratchaprasong's shrines covered.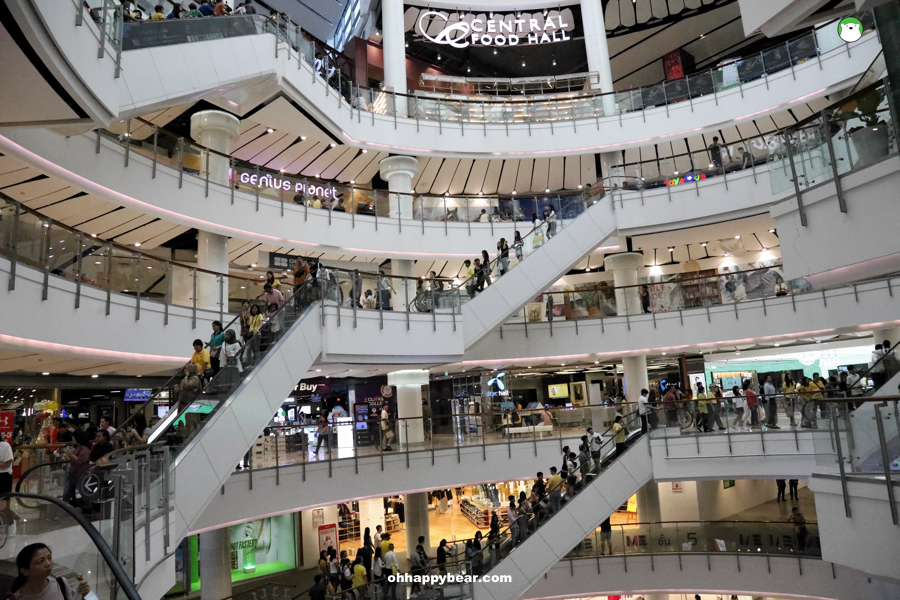 Above: Central World is one of many BTS-connected shopping malls in the Ratchaprasong area (BTS: Siam or Chit Lom).
Above: Gaysorn Urban Village – for those seeking exclusivity in their shopping experiences in Bangkok, also on BTS: Chit Lom, but walkable from BTS: Siam.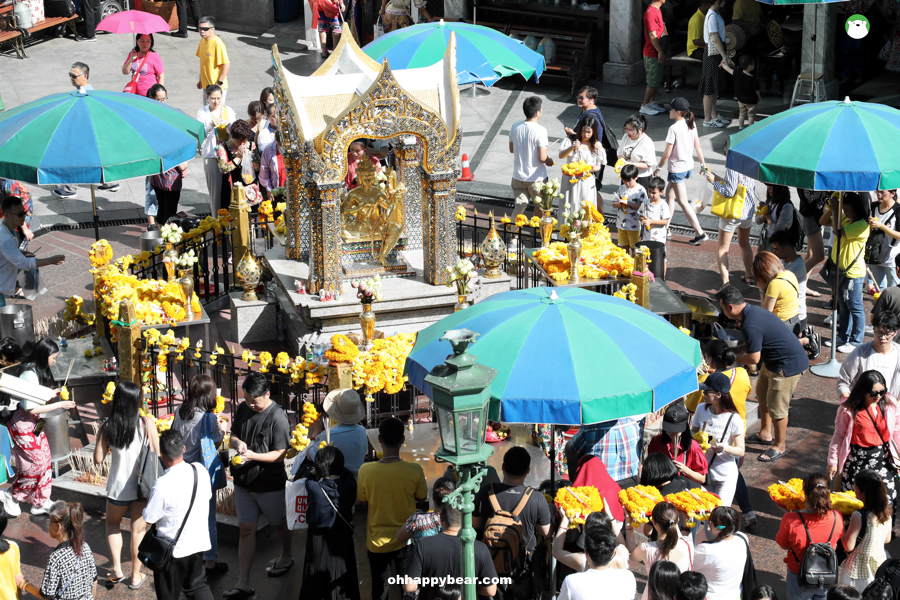 Above: The sacred Erawan Shrine at the Ratchaprasong Intersection, BTS: Chit Lom, walkable from BTS: Siam.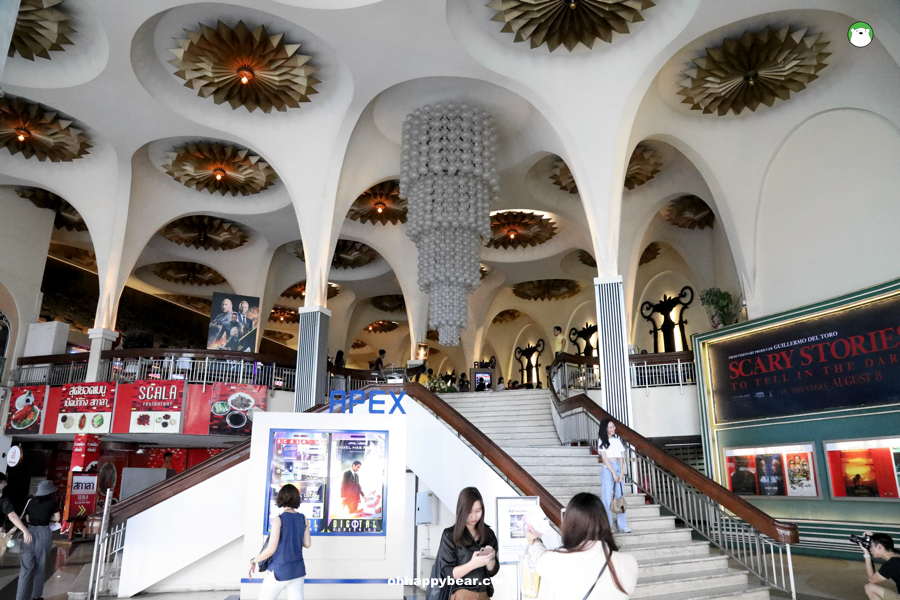 Above: Siam Square's icon of Scala Theatre, reflecting Bangkok's heyday of the 1970s.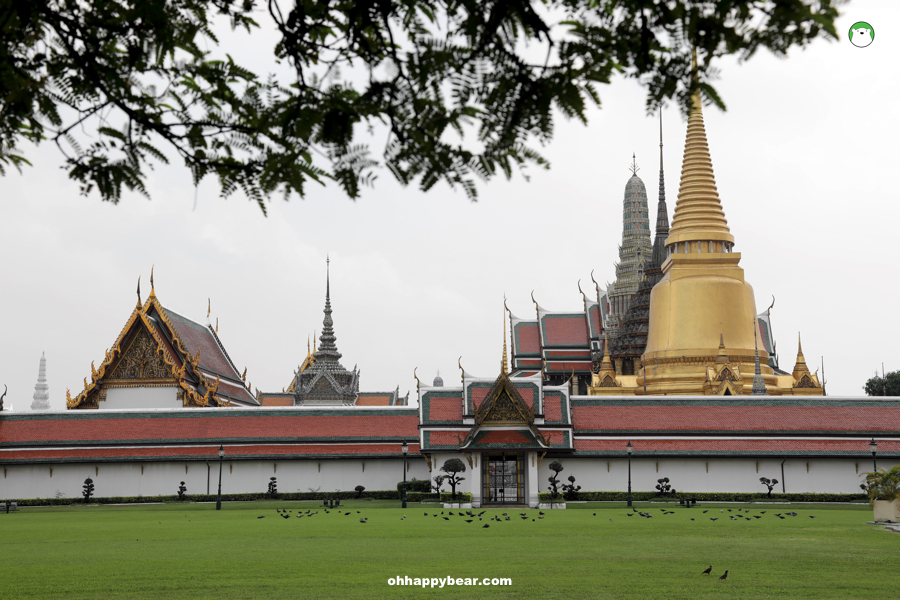 Above: The Temple of the Emerald Buddha in the grounds of the Grand Palace in Rattanakosin Island or Bangkok Old Town.
2. THE OLD TOWN (RATTANAKOSIN ISLAND) AND THE CHINATOWN OR YAOWARAT:
Take the BTS Phloen Chit to Saphan Tak Sin Station >> Boat from Sathorn Pier to Tha Tien >> Explore the Old Town by hopping on and off the boat combining with walking.
Or…
Take BTS at Phloen Chit station and connect to the MRT at Asoke, and take the MRT to explore various areas of the Old Town. MRT Hua Lamphong station will take you to the top of the Chinatown, great if you want to explore Talad Noi area. MRT Wat Mangkon station will take you to the heart of the Chinatown, great if you want to pop up in the middle of all things including the major hussle of Sampheng lane and markets. MRT Sanam Chai station will take you right in the middle of Rattanakosin area, you can then walk to Wat Pho, The Grand Palace and tick off most major Bangkok attractions from this station.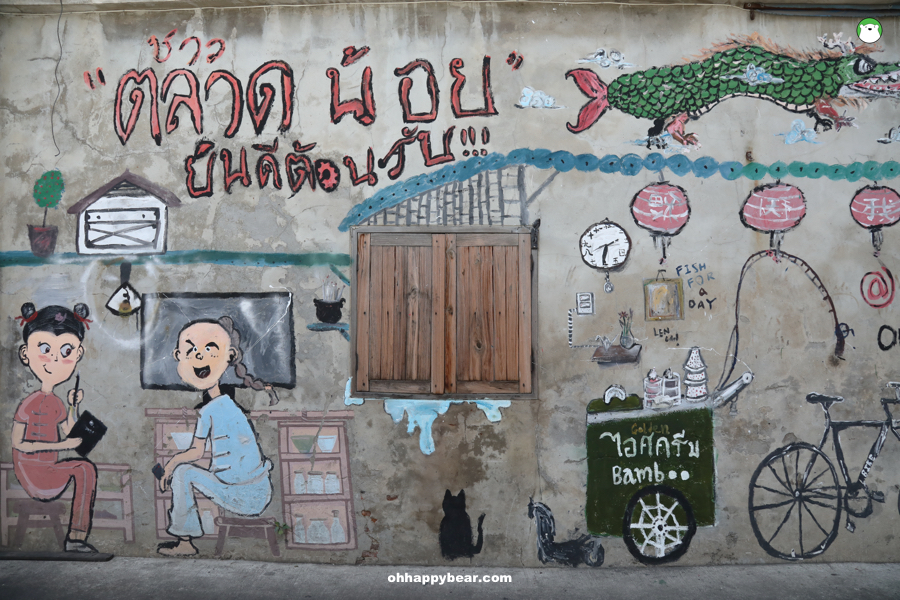 Above: Talad Noi is located towards the south of Chinatown or Yaowarat in Bangkok. This is a residential area, a living museum with meandering alleys. A great cultural walk if you are nearby.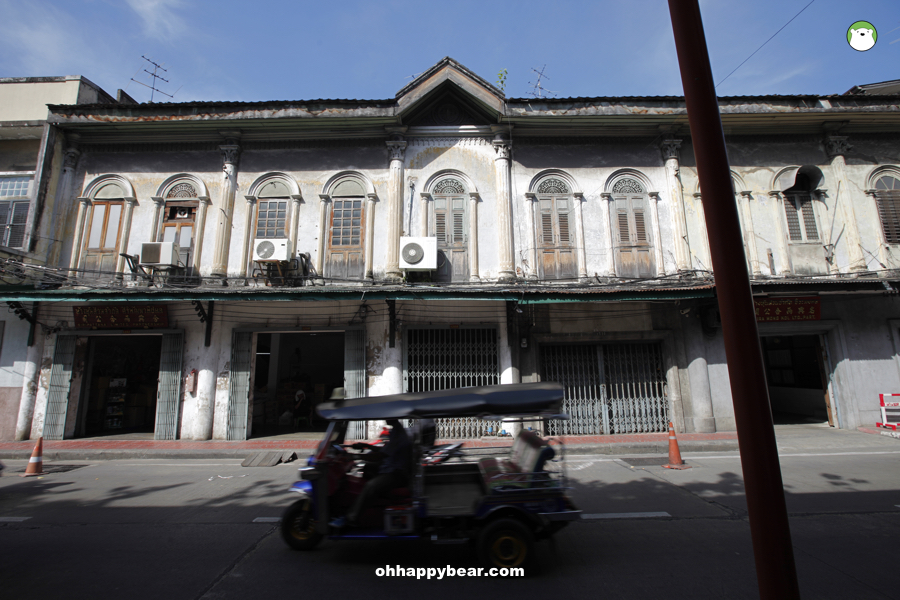 Above: Songwat Road – the riverside strip of Chinatown – is lined with old buildings, many still with the originally intricate facades. A pier of spices, this road is somehow aromatic and a great strip to walk through.
3. CHATUCHAK MARKET + OR TOR KOR
For those wishing to eat their way through Bangkok, take the MRT to Kamphaeng Phet Station which is directly connected to the Or Tor Kor food market (open daily) and Chatuchak Weekend Market (Sat-Sun).
From BTS Phloen Chit station, go to BTS Asoke and take the MRT to Kamphaeng Phet Station and enjoy!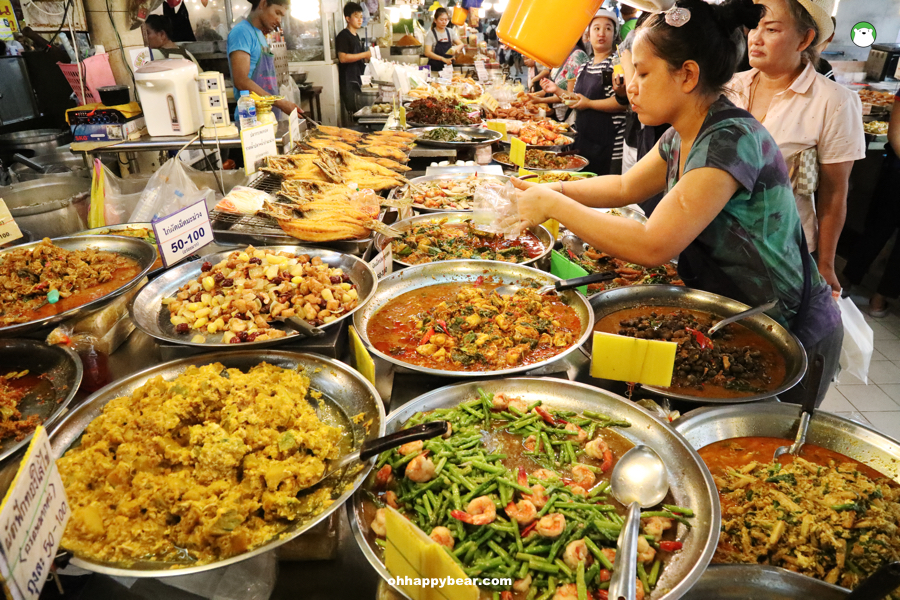 Above: The colours of Thai foods at Or Tor Kor Market, MRT: Kamphaeng Phet.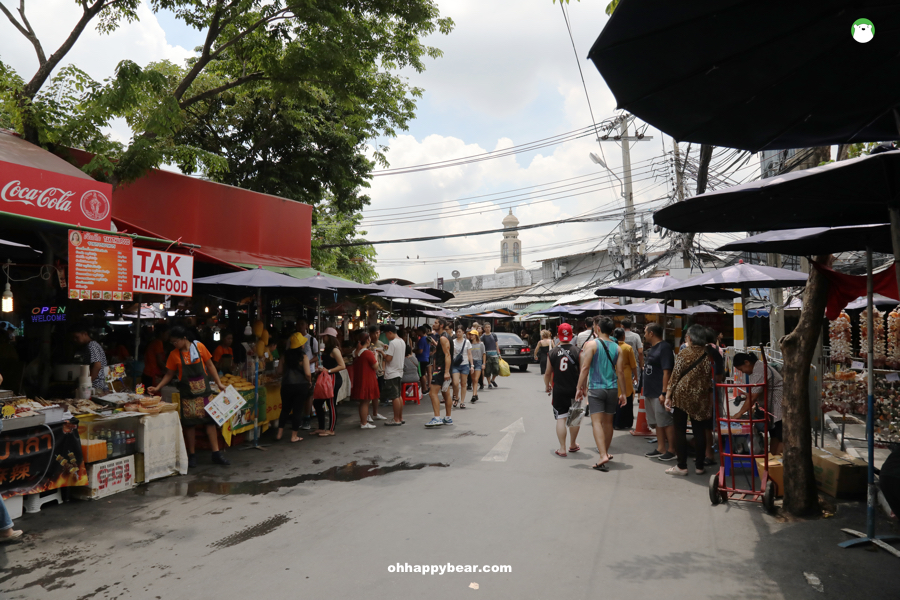 Above: Chatuchak Weekend Market, MRT: Kamphaeng Phet.
4. RIVER CRUISING
Another favourite way to relish Bangkok's classic scenes is to take a boat trip along the Chaophraya River. You can start from Saphan Taksin pier, or, if you can manage it, go up two piers to Wat Ratsingkorn where the boats are empty fresh out of the route.
From BTS Phloen Chit Station, take the BTS to Saphan Taksin Station, take the Chaophraya Express Boat from Sathon Pier.
You can, of course, combine routes and make your own schedules. These are suggestions, so you get to know the lay of the land. Hope you enjoy our hometown Bangkok.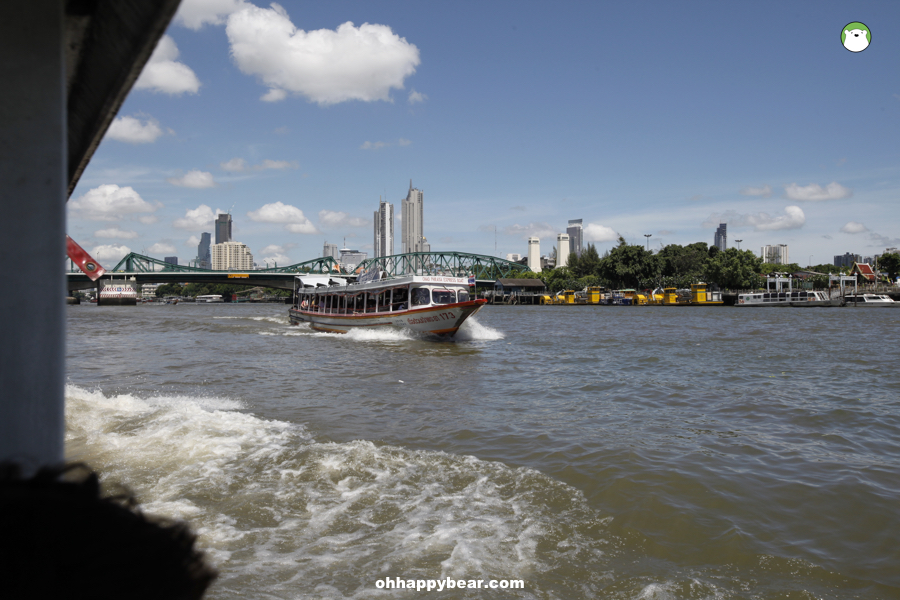 Above: A favourite way to explore the charms of Bangkok is to take your time cruising on the Chaophraya River Boat.
FROM THE AIRPORTS TO TOWN
From Suvarnabhumi airport, you can either take a taxifrom the official stand or take the Airport Rail Link which will take you right into Bangkok downtown area of Phaya Thai. From Phaya Thai, you can take the BTS to wherever your stay is.
From Don Mueang Airport, there are Limo Bus services that run from the airport to the city centre – Khao San and Silom route – at Bt180 per person. Or you can opt for their bus services that serve a number of routes, some with connections to BTS and MRT, too.
Note that there is a Bt50 surcharge for a taxi hailed from the airports. If you use Grab service, a Bt60 surcharge will also apply on top of the metered fee of the taxi.
There is also shuttle bus service between Suvarnabhumi and Don Mueang Airports – free of charge.
For more information about airports in Thailand, visit Airports of Thailand.